SCORSESE, DENIRO AND "THE IRISHMAN"
A short background on the film. THE IRISHMAN had been in the planning for a number of years but because of the potential cost, and the fact that De Niro and Pacino were no longer the box office draws they had once been, the film was delayed a number of years. Finally Netflix agreed to finance as it would give them a highly prestigious film project and probably the last collaboration between Robert De Niro and Martin Scorsese; a collaboration that has given us such films as TAXI DRIVER, RAGING BULL and GOODFELLOWS. The budget was set at 90 million and eventually ballooned to 152. A large part of the budget was to be devoted to "de-aging" De Niro and Pacino and other actors using CGI so they could play their characters over  a 50 year period. If released theatrically, along with promotion costs, the film would need to gross over 300 million just to break even.  Thus, the reason why no studio wanted to take it on. It was simply too much of a risk.
THE THEATRICAL PRESENTATION
Because the exterior of my wife's house in Brooklyn was used to film a scene in  THE IRISHMAN, despite the fact that the film was going to be streamed on Netflix at the end of November 2019, on 12 November she and I traveled three hours from upstate New York into the city to see the film.  It was playing at the Belasco theater on Broadway in a hard-ticket or "Roadshow" engagement for one month.  Because director Martin Scorsese wanted audiences to have a chance to see the film on the big screen several theaters around the country were playing the film for a month before the NETFLIX showings.  Of  these engagements the Belasco was chosen to best present the film in a theater setting.  The west and east side of the Marquee displayed a poster variation.   The side of the theater had an array of special posters from one side the other.  A a massive screen was installed for the engagement that took up the entire proscenium and a special projection booth sat at the rear of the theater's orchestra seating section.  Since THE IRISNMAN at the Belasco was the hotist ticket in town, the Tuesday night performance we attended was packed with a respectful audience so quiet that  you could hear a pin drop.  During the end credits  when Scorsese's name appeared most of the audience applauded.  It was without questions one of the best settings in which I had ever seen a movie since the 1960s and early 70's Roadshows.  Thus, I believe my wife and I saw THE IRISHMAN exactly the way Martin Scorsese wanted his film to be seen.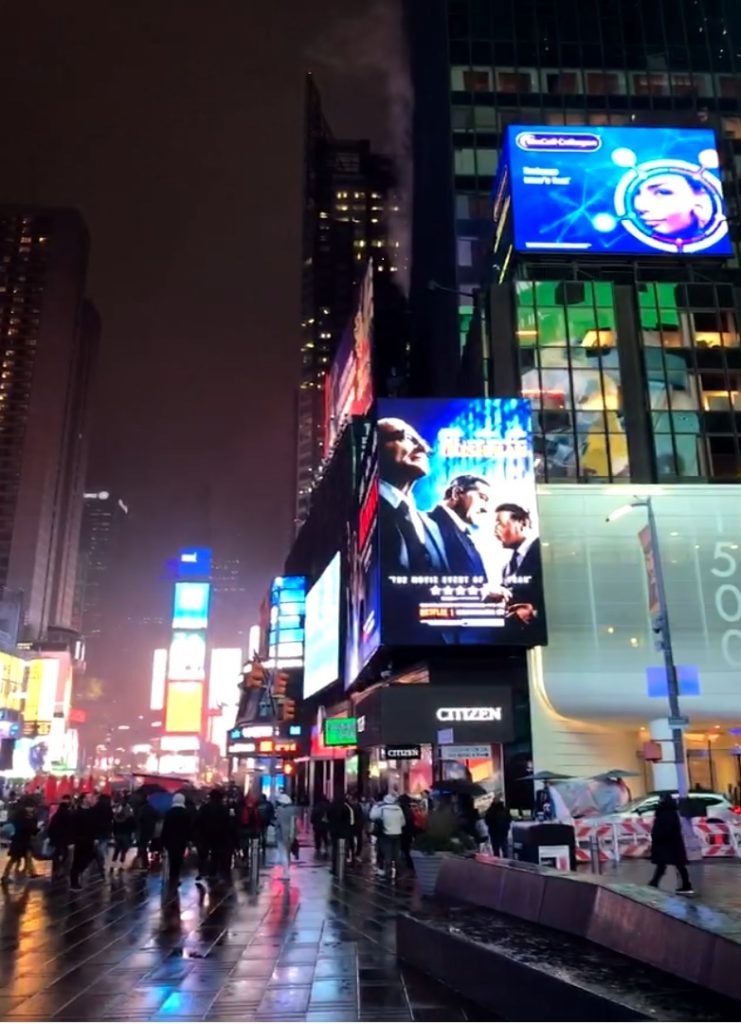 BROADWAY
44TH STREET OFF BROADWAY
THE WEST SIDE OF BELESCO MARQUEE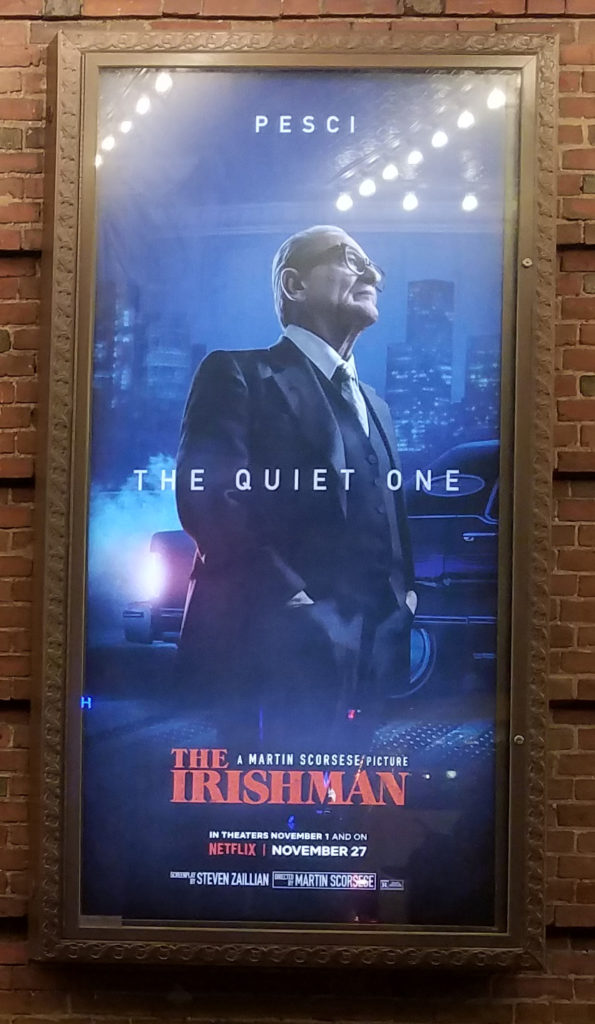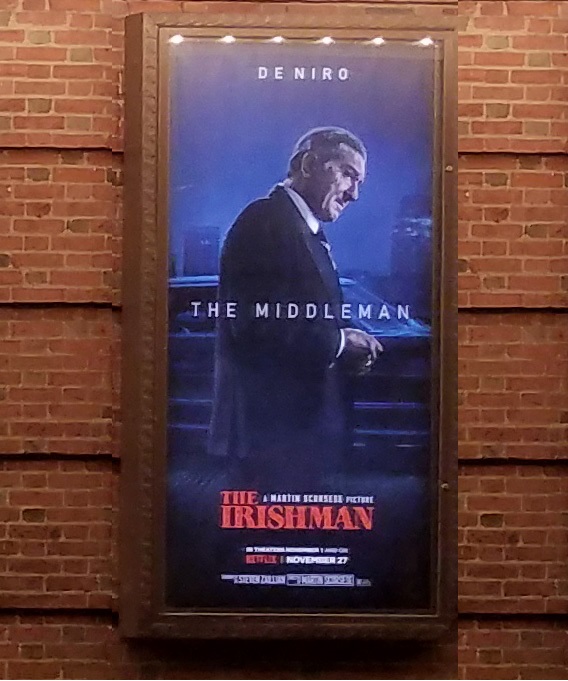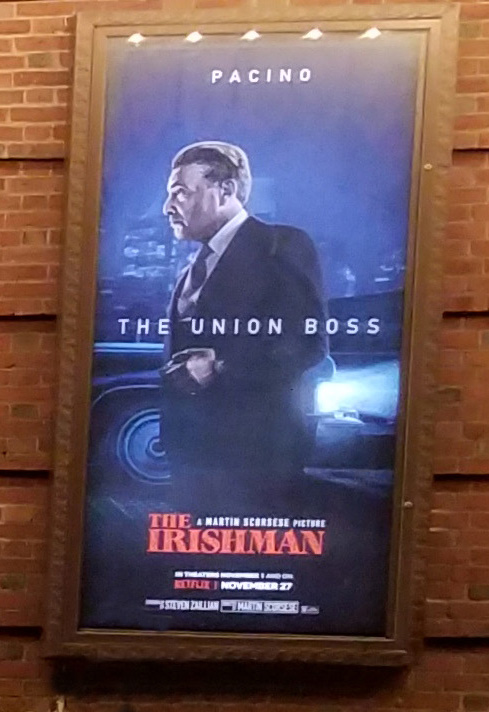 THE EAST SIDE OF BELASCO MARQUEE
INSIDE THE BALESCO
DE NIRO MAKING A SURPRISE VISIT TO THE BELASCO TO GIVE A POLITICAL SPEECH ABOUT YOU KNOW WHO
THE AUDIENCE LOVED IT.
_________________
The scene shot outside  at my wife's house occurred early in the film.  When it was filmed the master shot lasted 3 or so minutes in real time.  On the screen it ran about 30 seconds.   It was filmed using three camera angels.  Some frames are below.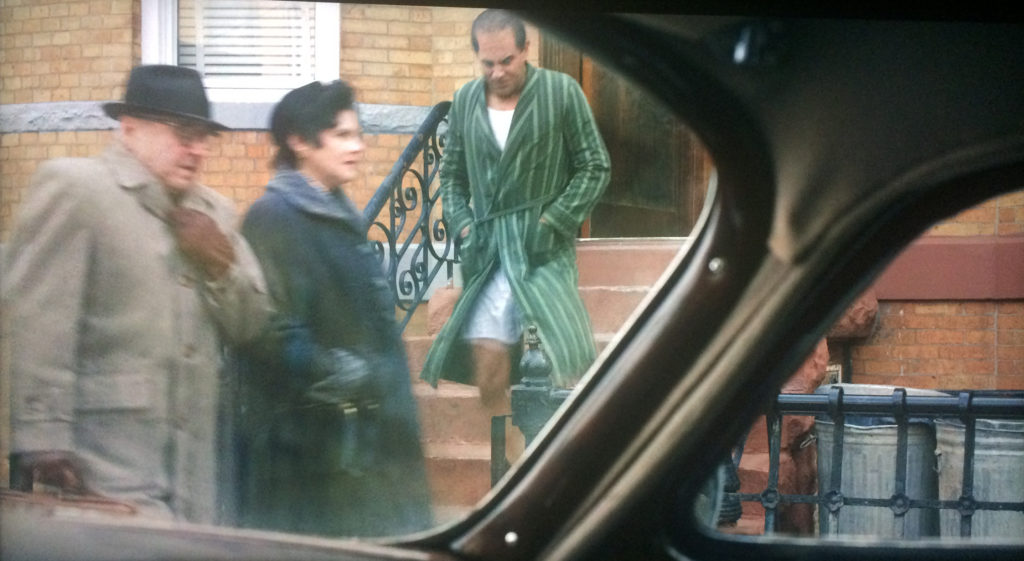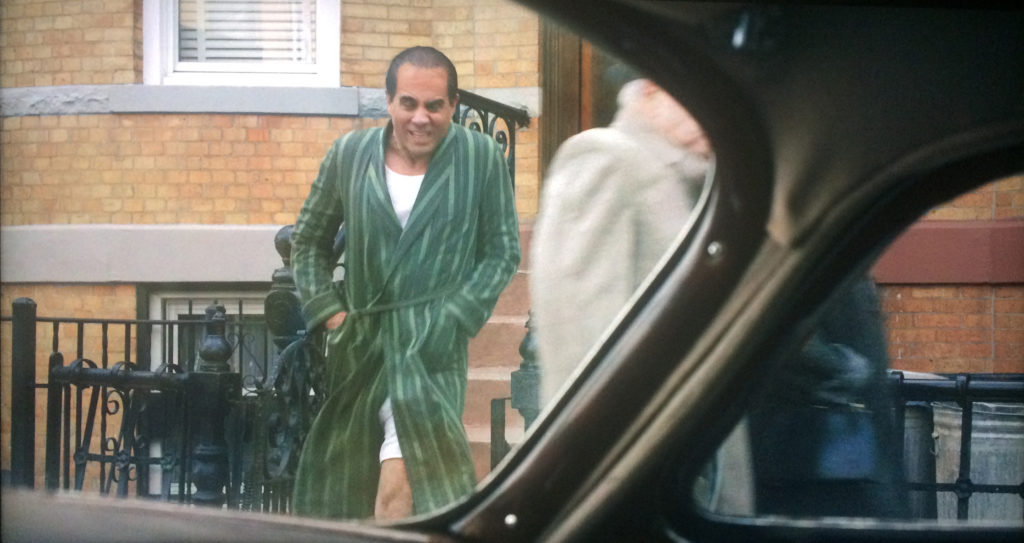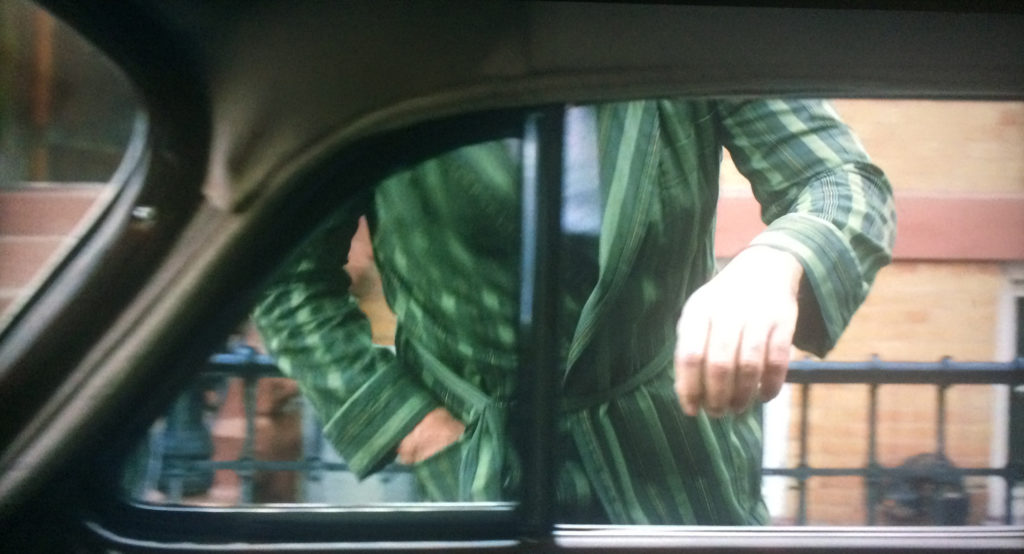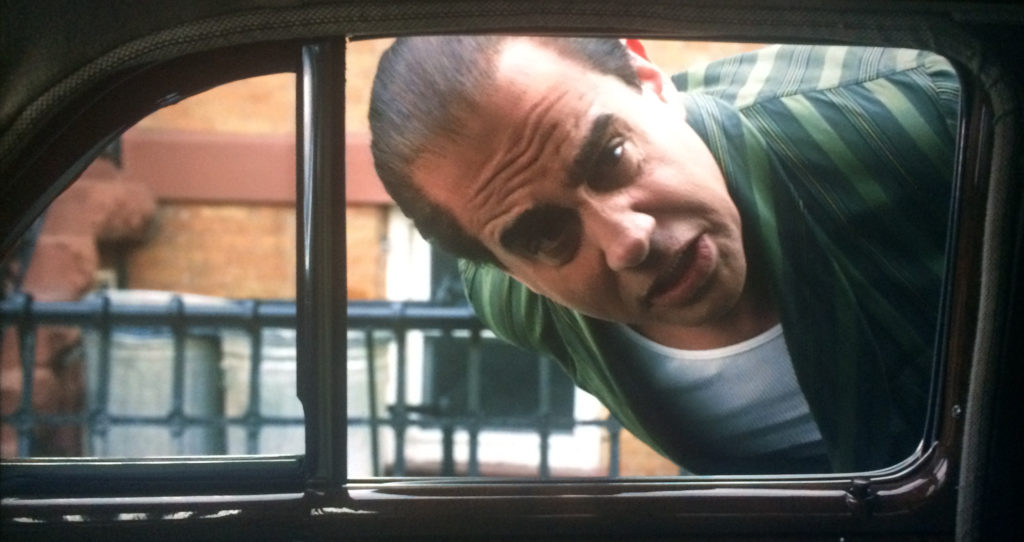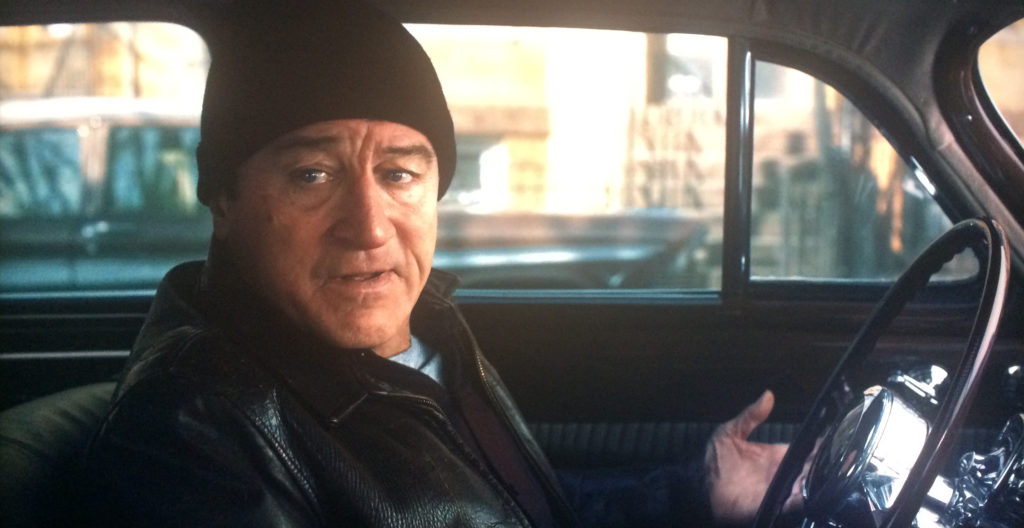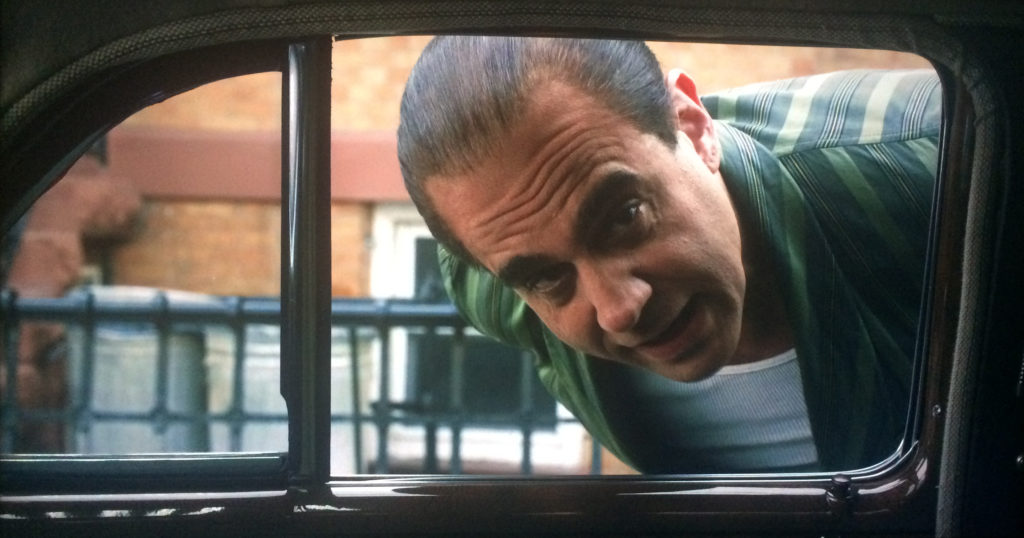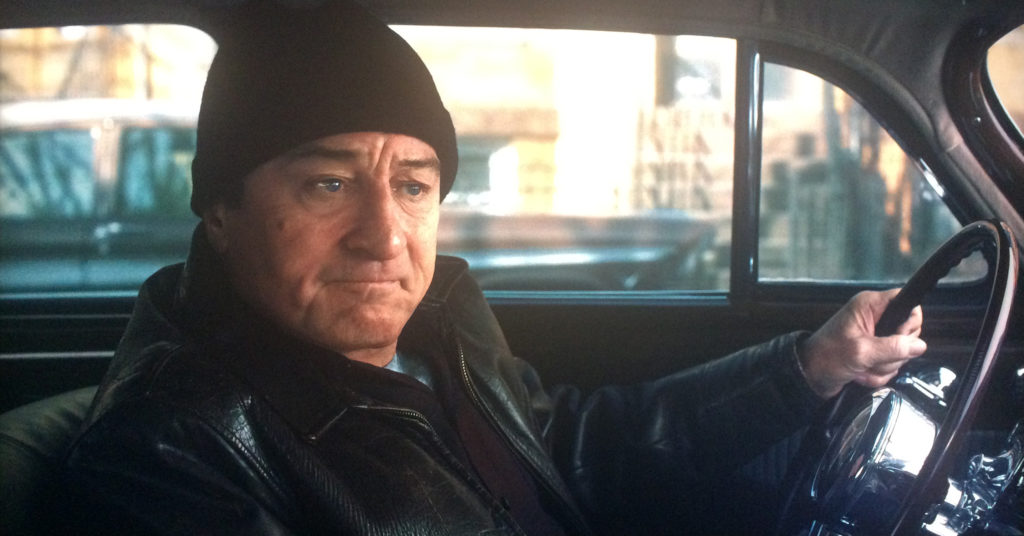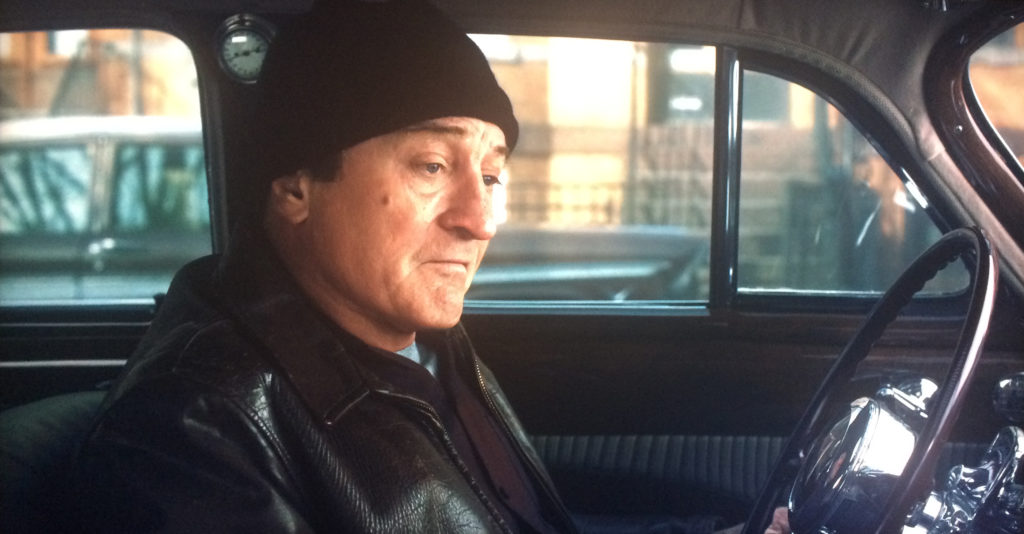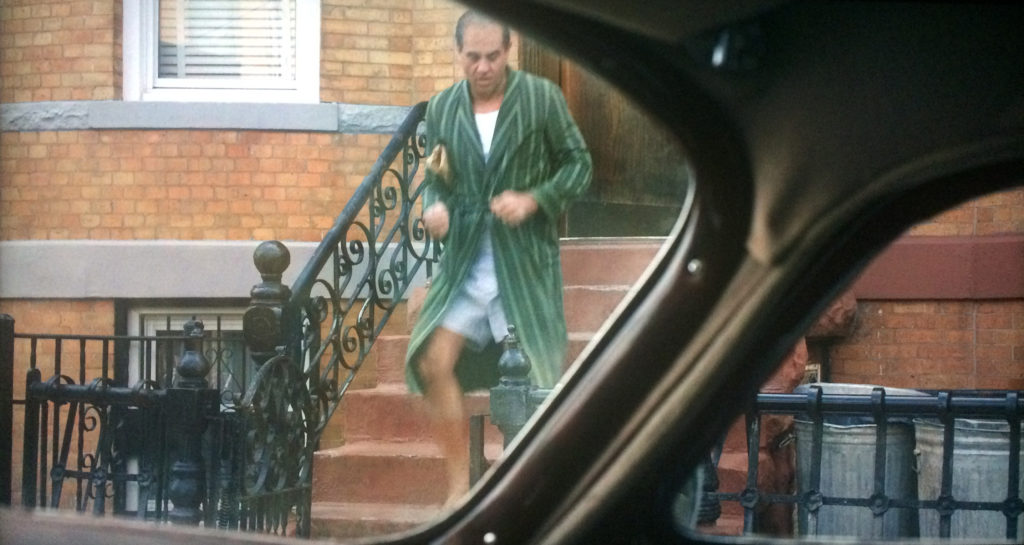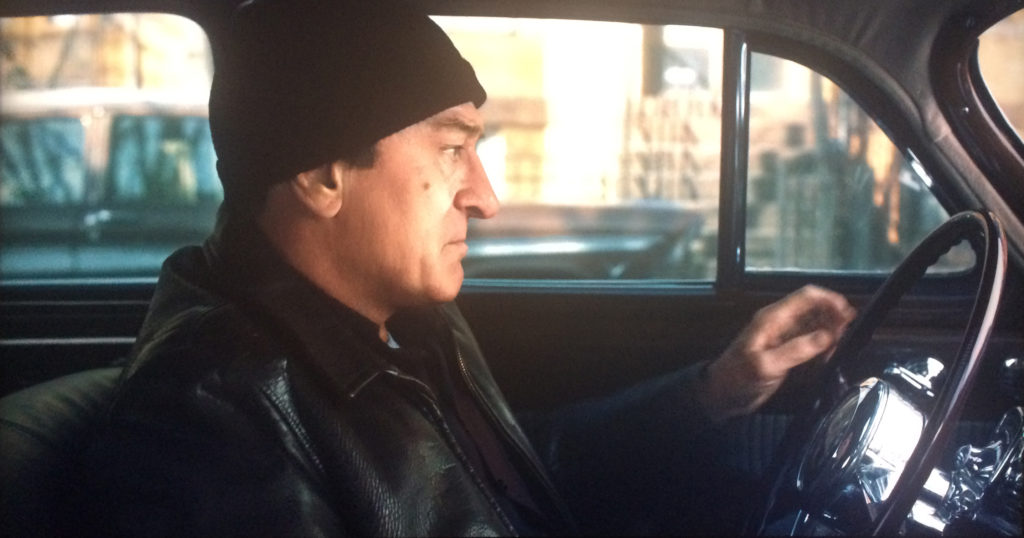 ____________
Personally, I thought the film was interminable and needed to be cut by at least 30 minutes.   On the other hand Scorsese made the film he wanted to make the way he wanted to make it and not the film that I expected to see.  What it is, is a sometimes funny, always insightful meditative movie dealing with the Mob scene in the last 50 years of the 2oth century.  I thought that Pesci's subtle performance was the best in the film while my wife raved about Pacino telling me over and over that without him the film–as entertainment–would have fallen flat. As for me De Niro he gives his best performance in years.  Seemingly laid back, he is a volcano of suppressed emotion; a volcano that only shows itself when necessary.  His character is a survivor who, surrounded by men with greater power, he knows how to twist turn and weave his way around them to achieve his ends.  De Niro captures this caliber of man to perfection and his performances literally holds this three and a half hour film together.  Consequently, what the film has–despite my reservations about length–is resonance.  It stayed with me and forced me to ask myself question after question both leaving the theater and long afterwards.  In fact, I am still asking questions.  Below the surface, this is a film of immense  subtilty that tells a profound story,   I soon realized that, to achieve a real understanding of THE IRISHMAN I would need to see it again–on NETFLIX of course.  In short, it is a film that needs to be seen more than once for a true appreciation.  But, that is the case with almost all of Scorsese's film.
__________
My wife enjoyed seeing what was made of that day of filming and for that alone felt it was well worth the long drive to the city.  In fact, so did I.   Keep reading and see all the work that was put in to film shoot short a 30 second for yourself.
THE FIIMING
SCORESE DIRECTING DE NIRO IN "TAXI DRIVER"AND 40 YEARS LATER IN "THE IRISHMAN"
As mentioned above, my wife's row house in Brooklyn became a Hollywood studio for one day when Martin Scorsese's The IRISHMAN used the front of the building as an exterior location. The house was chosen, not for any aesthetic reason but, because no else opened their door on that street to the location scout that day. Such is the logic of movie making.
The house was originally to be used during a late summer shoot but because of scheduling issues—Bobby Cannavale wasn't available—the shoot was moved to mid January. Of note is that, in the film, the scene takes place in the fall or spring but on the day it was shot it was freezing cold. It was so cold that Cannavale had to wear insolating clothes under his pajamas and robe.
The day before the shoot a crew came in and as the scene was to take place in the 1950s they added or changed the exterior of the house so that it would look as it might have looked in the 1950s.   This included putting 1950s venetian blinds on the windows, removing guard bars, adding door moldings and replacing plastic garbage cans with the metal ones used in the 1950's.
Having seen film shoots before I wasn't much interested in traveling to the city to watch but my wife was curious. She arrived the night before with her smart phone ready to take pictures.   She also wanted to make sure that the prep crew had everything they needed so things ran smoothly and did everything that she could to help them.
What follows are photographs taken that day. It should be understood that the scene lasted about 3 minutes in real time when the master shot was taken.  During editing it will, in all probability, be shortened (it was) and depending on the length and pacing of the finished film might even be deleted entirely. (It wasn't)   In the scene De Niro drives up to the house.  Cannavale walks out, he talks to De Niro through the passenger window.  He then walks back into the house and comes out and hands De Niro a gun before Niro drives off.
NIGHT BEFORE SIGNS WERE POSTED SO THAT THE STREET WOULD BE CLEAR OF CARS DURING SHOOT.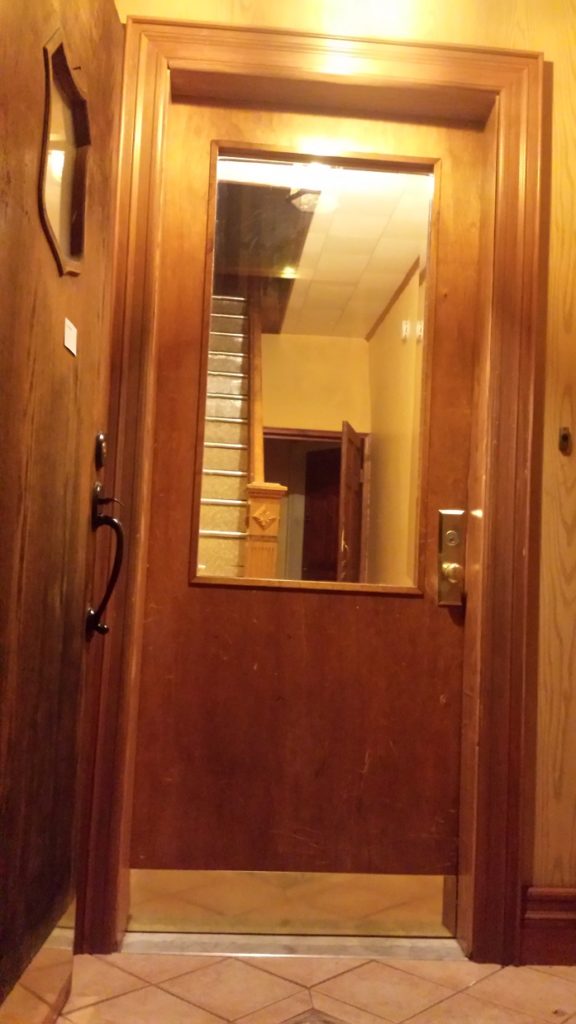 MOLDING WAS ADDED TO THE FOYER DOOR AND VENETION BLINDS HUNG ON THE GLASS DOOR SO CAMERA COULDN'T SEE INSIDE.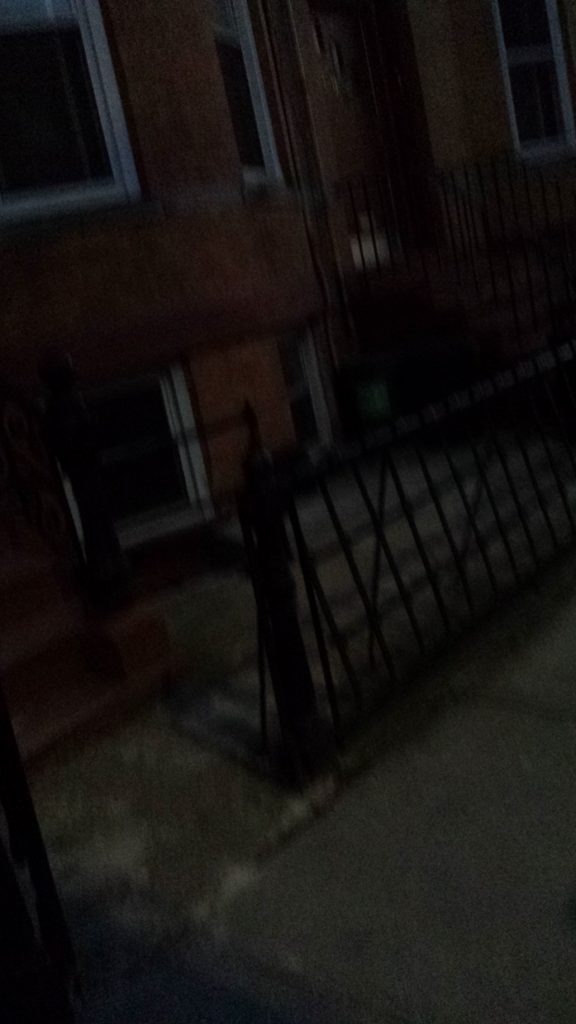 THE FRONT OF THE HOUSE DRESSED TO LOOK LIKE THE 1950s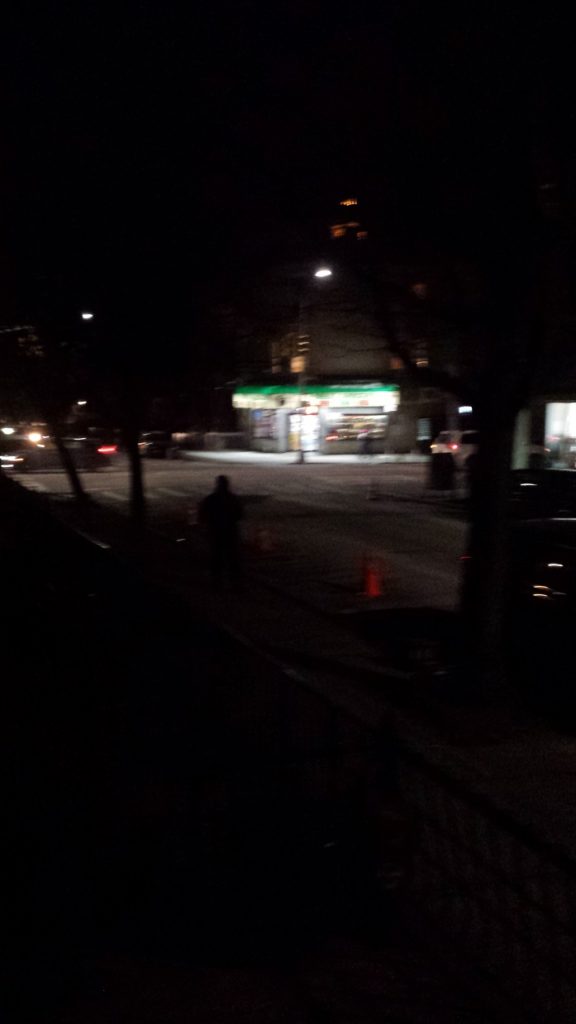 EARTLY MORNING AS TRUCKS AND CREW ARRIVED.  CORNER STORE WOULD BE USED BY SCORSESE TO NAP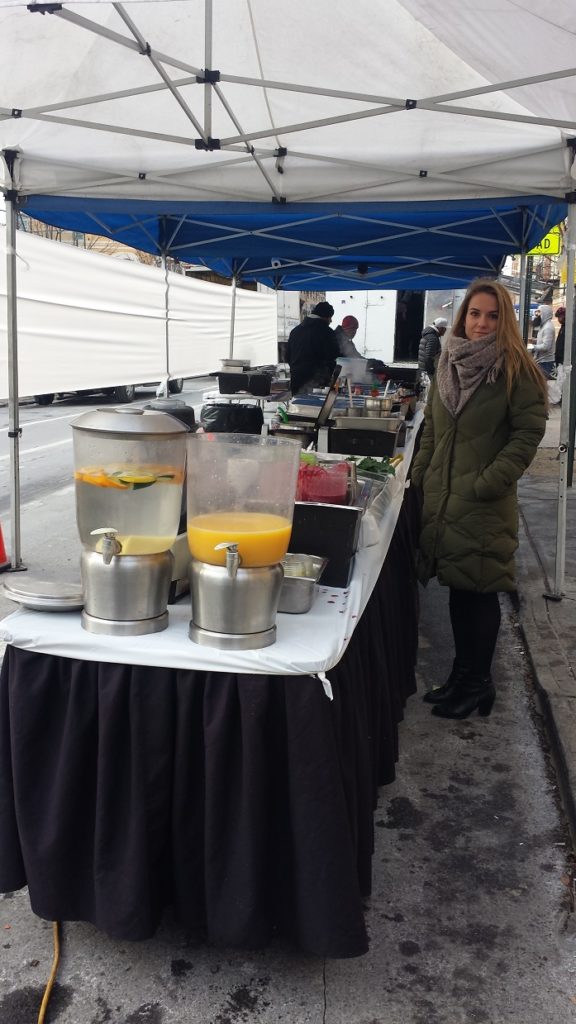 CATTERED FOOD AVAILABLE TO CREW AND CAST.  MY STEP-DAUGHTER DECIDING WHAT SHE WANTED FOR BREKFAST.
SHE FINALLY DECIDED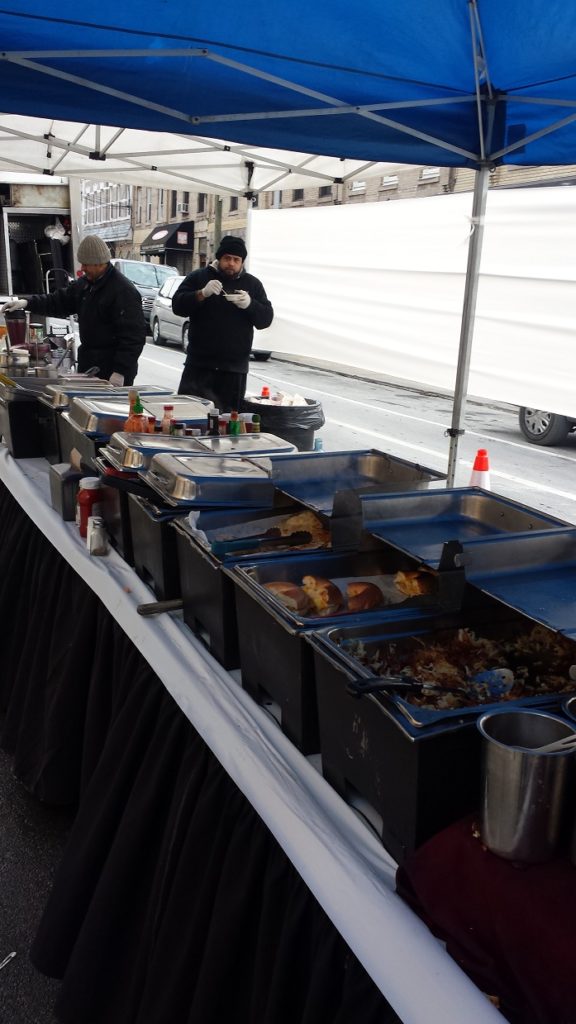 CREW MEMBER TAKING QUICK SNACK.
CATEERER SPENT ENTIRE SHOOT MAKING SURE FOOD WAS AVAILABLE.
INSIDE HOUSE CANNEVALE'S CAMP CHAIR WAS READY FOR HIM BETWEEN SHOTS.
CANNAVALE SOCKLESS WEARING HOUSE SLIPPERS IN FREEZING COLD
CAR WAS MOVED INTO PLACE FOR LONG SHOT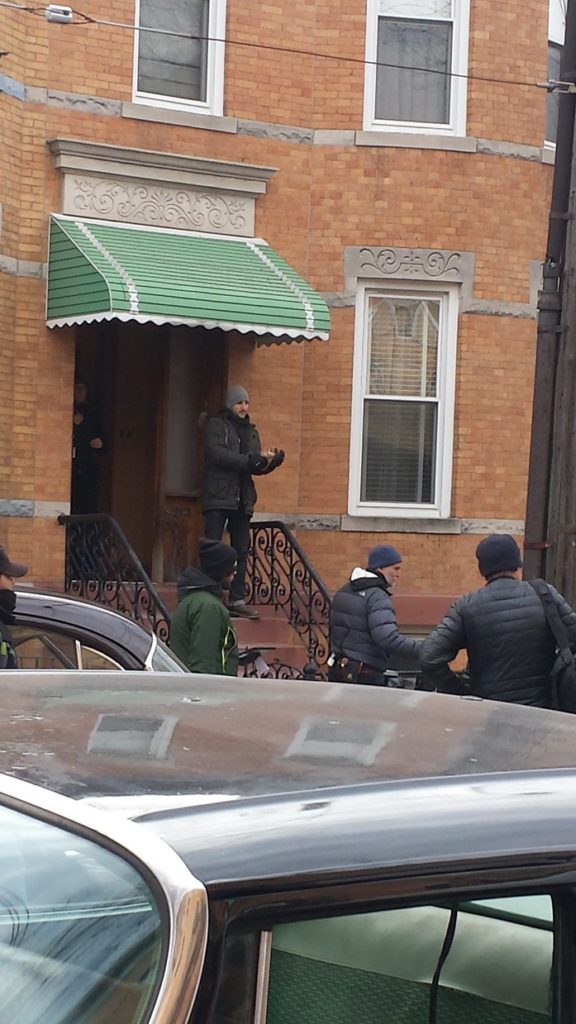 CANNAVALE WAITS INSIDE READY TO BE CALLED OUT FOR LONG SHOT TAKEN FROM ACROSS THE STREET.
PAPARAZZI PREPARING TO TAKE PHOTO.
NOTICE THE PERIOD CARS IN PLACE FOR THE LONG SHOT
HE FINALLY TAKES PHOTO
DE NIRO WAITS TO DRIVE CAR OUT.
FOR THE LONGSHOT DE NIRO DROVE THE CAR AWAY FROM THE HOUSE.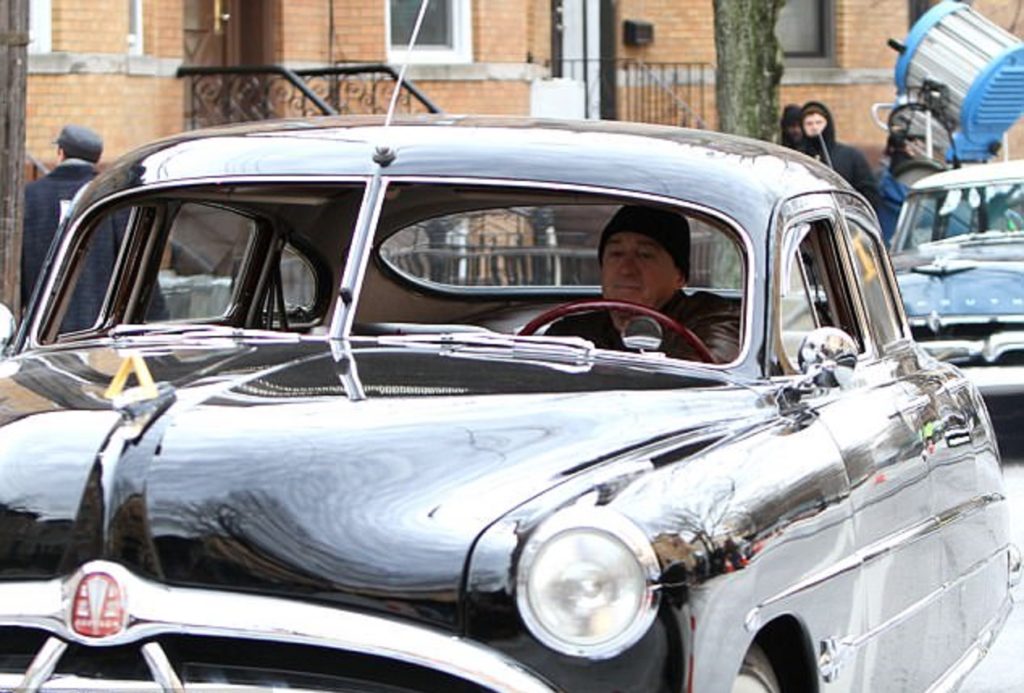 CARNNAVALE GREETS DE NIRO BEFORE THEY WORK TOGETHER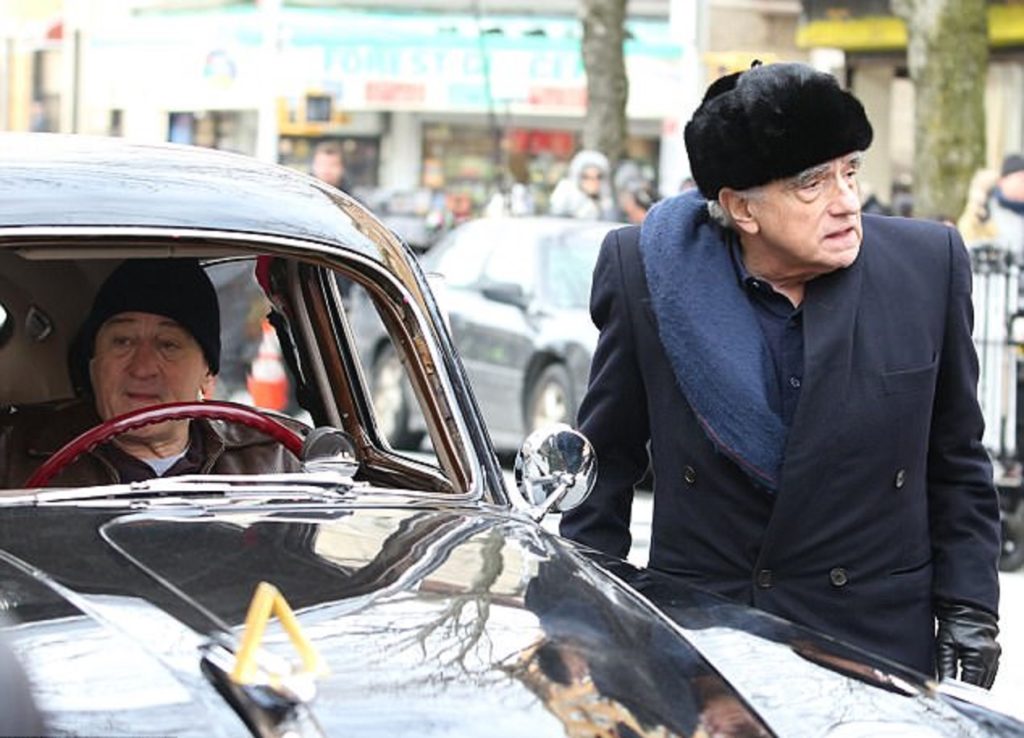 SCORSESE GIVES DE NIRO DIRECTION
 CARNNAVALE WAITS FOR SHOT TO BE READY
CAMERA AND CREW ON OTHER SIDE OF THE STREET FOR THE LONG SHOT
DONE WITH LONG SHOT CAMERA SHOT, CREW MOVSE TO OTHER SIDE OF THE STREET FOR CLOSE SHOTS
CARNNAVALE READY TO DO ANOTHER TAKE
SCORSESE GIVING CARNNAVALE DIRECTION
Since the camera and crew moved across the streets for close-ups, my wife moved to the second floor of the house and taking photos from there was able to get a full shot of camera, actors and crew.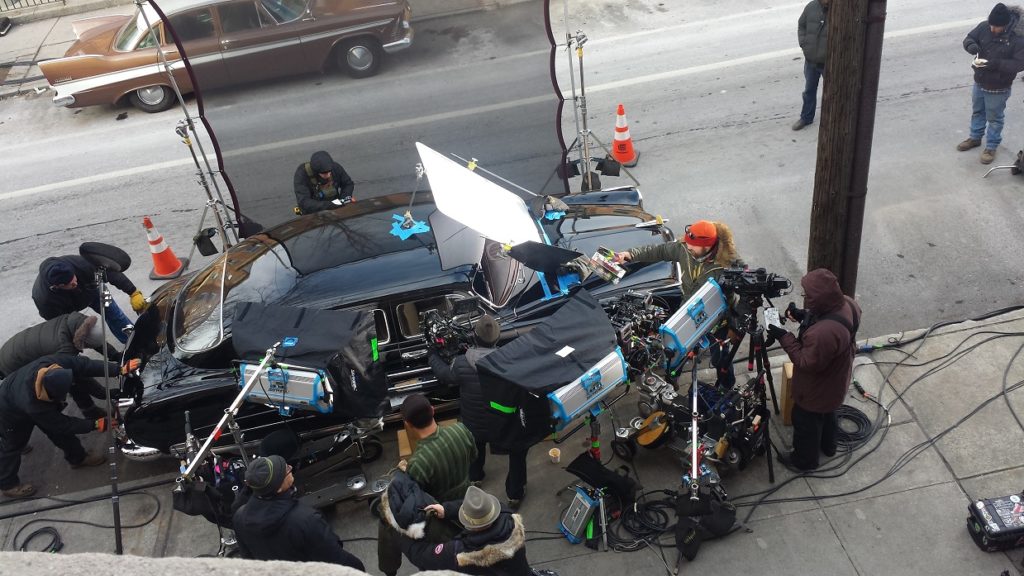 CLOSE UP BEING SHOT
SCORSESE CHECKING CAMERA LOCATION
CARNNAVALE BEING WIRED FOR SOUND
GIVING DE NIRO DIRECTION
CARNNAVALE WAITING
SCORSESE GIVING CREW INSTRUCTIONS
CAR AND CAMERAS SET UP FOR CLOSE-UPS
FULL SHOT OF CAMERA AND CREW
NYC POLICE WOMAN IN DISCUSSION WITH LOCATION PEOPLE
CARNNAVALE RETURNING FROM HIS TRAILOR
CARNNAVALE HAVING MAKE UP APPLIED. NOTICE GREASED BACK HAIR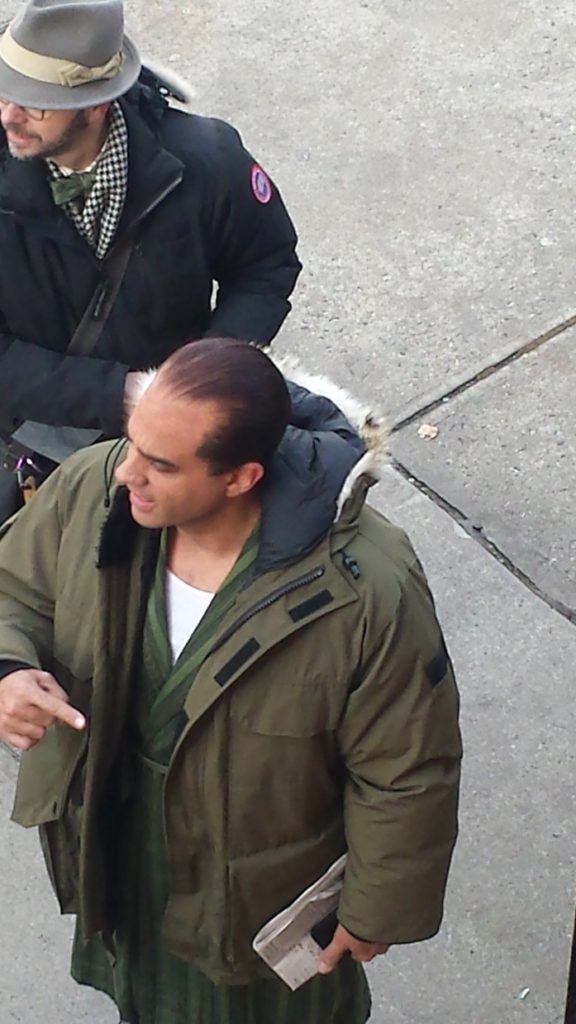 CARNNAVALE GETTING DIRECTION FROM SCORSESE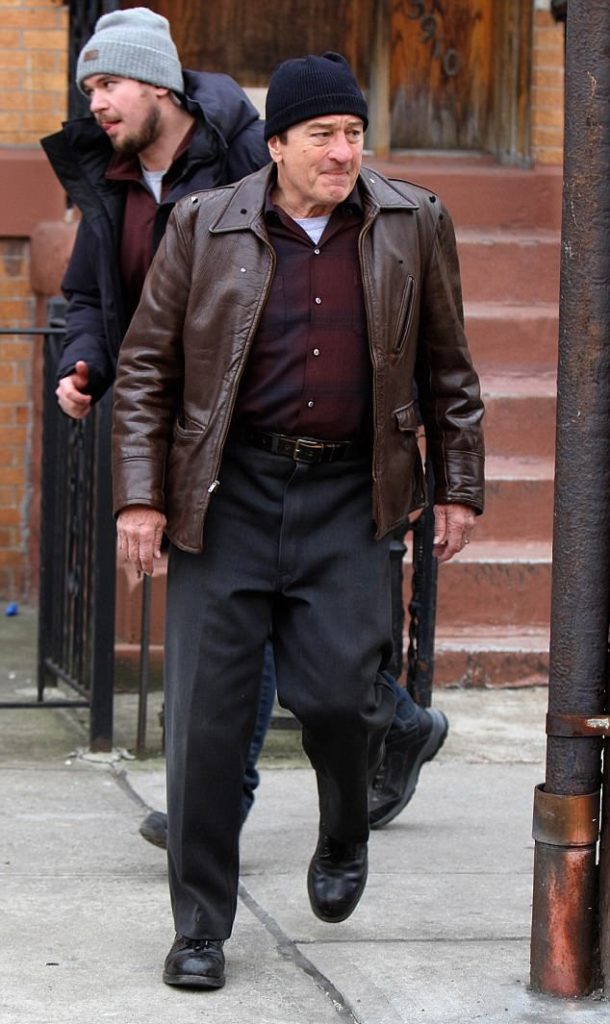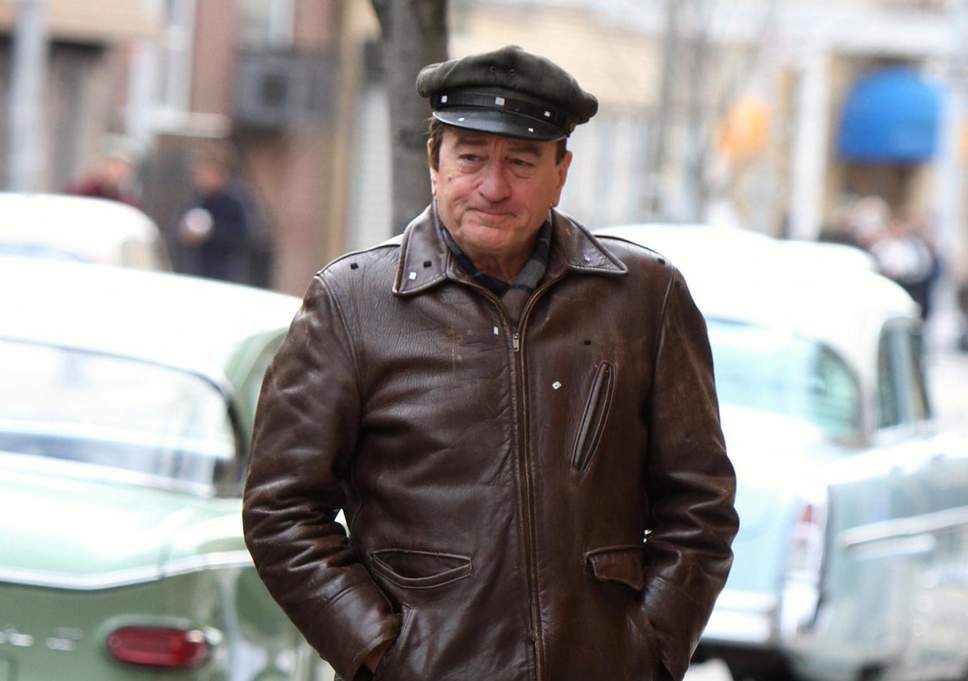 What amazed my wife was DeNiro. She called him the mouse; meaning he didn't make a fuss, was there when he was needed for a take and, when he wasn't, was back in his trailer. He was there for the work and not interested in anything else.
These two extras were attacked by a dog which held up shooting for a bit. Fortunately the crew kept the dog away from the two and neither were hurt. Later when my wife asked the woman if she was all right, the woman told her. "I'm fine. This sort of thing is part of the job."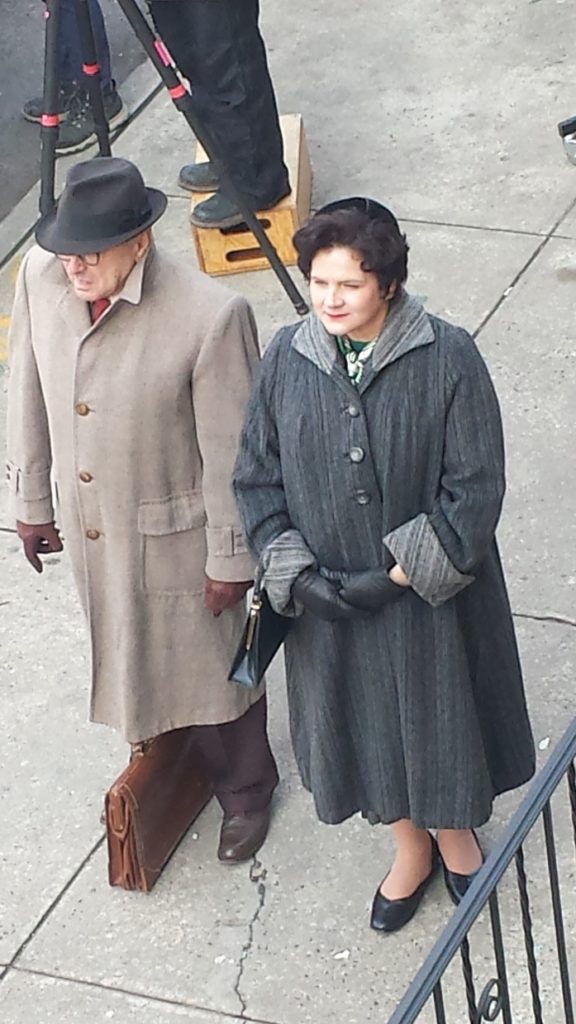 Notice Scorsese using a digital camera. This enabled him to see a take on a monitor exactly as it would appear on screen. Since these were close-ups he worked hard with the actors doing take after take until he got what he wanted. .
CROWDS SWIRLING AROUND SCORSESE
COLD SCORSESE BURIES FACE IN COAT AND HAS BLANKET ON LAP
DE NIRO'S STAND-IN GETS OUT OF CAR AND DE NIRO GETS IN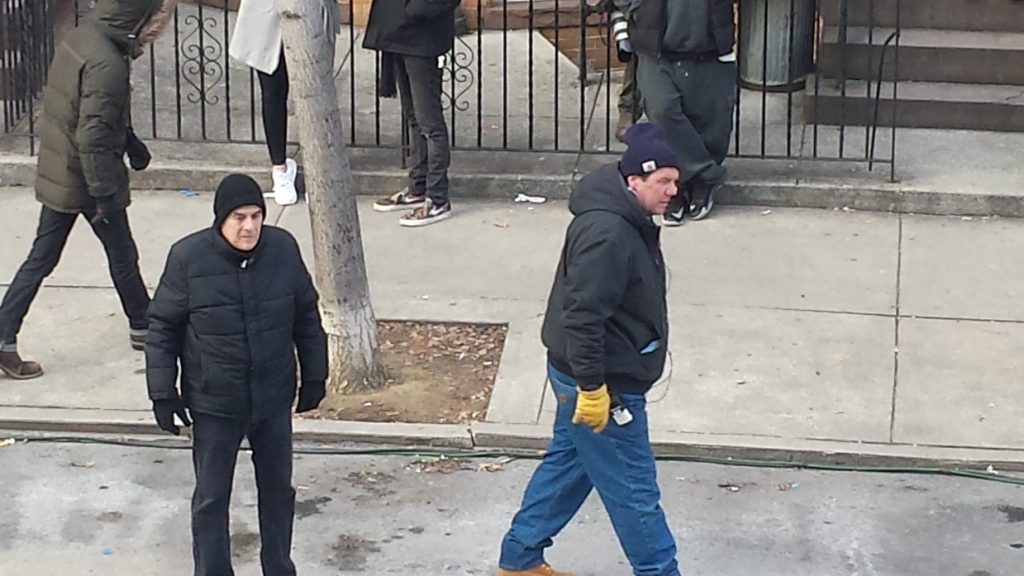 STAND-IN WAITING TO STAND IN
SCORSESE WATCHING A TAKE ON MONITER
SCORSESE, BLANKET ON LAP WATCHES ANOTHER TAKE
GIVING DE NIRO DIRECTION
SCORSESE WATCHES AS SPECIAL CAMERA IS USED
CAR WAS UP ON BLOCKS TO MAKE IT LEVEL ON INCLINED STREET
SCORSESE LOOKING AT RESULT
Satisfied with what he had gotten from his performers and, working on a schedule, Scorsese and company moved to another location for a night shoot.  The crew packed up in less than a half hour and the street and house returned to normal. The food that was left was thrown out and that was painful for my wife to watch. I was angry that she didn't pack it all up and bring it home for me to eat.  Referring to the crew my wife told me that she had never seen people work so hard. "Without them there would not have been a movie." The location scout invited her to watch the night shoot and, after a few hours there, she was in her car headed back home, her day on a movie set over. That the movie set was her house, well, that made the experience all the more sweeter.