AFI 11-SINGING IN THE RAIN
SINGING IN THE RAIN was supposed to have its first TV showing on NBC the week of the Kennedy Assignation in November 1963. But, considering the events, it was decided that the film (a light musical comedy) was not appropriate and the showing was postponed until (I think) January 1964 which is when I first saw the film. Unfortunately for me, I watched it on my TV and not the family color TV and my TV was B&W. Nevertheless, I enjoyed the movie and—following the least objectionable programming pyridine—watched it several more times during the 1960s. What I appreciated about the film at that time and, what I thought I saw, was an inconsequential, lighthearted Gene Kelly Musical very much like the other musicals he made during the late 40s and early 50s only this one was the best.
In short, I didn't see it in any sort of text (I hadn't even seen AN AMERICAN IN PARIS or ON THE TOWN at that time.) But, once in college when I had a college library at my disposal I read everything they had on film and my point of view quickly changed. I was also lucky to see AN AMERICAN PARIS in a college film society showing. Fortunately, the color print was vivid so I was able to appreciate what Kelly and company were after regarding the impressionist paintings used in the ballet sequence. Then, in the early 70s MGM, desperate for income, released a lot of their older films to theaters and, so, I was finally able to see SINGING IN THE RAIN as it was supposed to be seen—in Technicolor on a big screen.  It was not until that screening that I was finally able to see the film for what it was—a love letter to Hollywood in the form of lighthearted satire. To understand how light, just compare it to SUNSET BOULEVARD made a few years earlier. I like to call that one 'film Noir Hollywood. You just can't get blacker.
Originally the film opened at Radio City Music Hall and was an enormous hit—one of the biggest grossing films of the year. It was seen at the time as an attempt to repeat the success of AN AMERICAN IN PARIS but, as is obvious today, far more ambitious with regard to the story. AN AMERICAN IN PARIS is basically a romance but SINGING IN THE RAIN was that but much, much more.
The story how the film came to be made is quite interesting. The film's producer, Arthur Freed had begun working at MGM in the early days of sound as part of the song writing team of Brown and Freed (he was the lyricist). Eventually, with Louis B Mayer's encouragement, Freed moved into producing, soon becoming the greatest producer of musicals at MGM and in fact in Hollywood. Since AN AMERICAN IN PARIS had used the Gershwin catalogue, because Freed and Brown had a song catalogue owned by MGM that had been written in the early days of sound, Freed decided to use it in a film.
Comden and Green, a Broadway writing team, after a great deal of work came up with the idea of using the Brown and Freed early sound musical catalogue to tell a story of Hollywood's transition from Silent Films to Sound Films as these songs were an important part of that historical period. This made sense. The "Song Singing In The Rain" was written for a 1929 film called THE HOLLYWOOD REVIEW and sung at the end of the film by an assembly of almost every MGM star except Garbo and Lon Chaney—dressed in rain coats in front of a Noah's Ark backdrop doing—guess what—singing in the rain.
HOLLYWOOD REVIEW PLAYING A RESERVED SEAT ENGAGMENT AT NYC ASTOR THEATER.  THOSE ARE LIVE DANCERS IN BILLBOARD
JOAN CRAWFORD READY TO DO HER "YOUTH AND BEAUTY" DANCE
A side note: THE HOLLYWOOD REVIEW was a massive hit and one of the biggest grossing films of all time when it was released. Today, it is barely watchable and a prime example of how primitive those early sound films were. Besides the two versions of "Singing In The Rain" presented in the film, about the only reason to watch this tedious antique is to see Joan Crawford in a her silent film "Our Dancing Daughters" (pre-Adrian) incarnation described by Conrad Nagel in the film as an example of today's youth and beauty.  Then she goes into a dance that is best described as an absolute embarrassment for all parties involved. Really, the first time I saw it my mouth dropped and I couldn't believe that was actually Joan Crawford.
Anyway, back to SINGINGIN THE RAIN.  So, the writers came up with the story and, like AN AMERICAN IN PARIS it would be set around a love story and have a big musical number re-stating in dance the film's basic story. The Dance Number—Broadway Melody—is absolutely incredible. As it is entirely different, it really shouldn't be compared to THE AN AMERICAN IN PARIS ballet as the two are apples and oranges. On "Broadway Melody" Kelly—who did the choreography and co-directed the film—pulled out all the stops. Some of what he did in this sequence is nothing less than magic. If you have seen it I don't have to describe. It speaks for itself. It was a super Hollywood musical sequence and not anything like the ballet in AN AMERICAN IN PARIS.
But what makes the film so wonderful and such a joy for film buffs—and anyone else for that matter—is it's light hearted cynical take on Hollywood. In certain respects it makes much the same points as SUNSET BOULVARD—Hollywood was a tough town. In the opening, where Kelly delivers his character's publicity department bio verses the real story shown in flashback the film makes the point  that under the tinsel in tinsel-town there is even more tinsel.
Thus, SINGING IN THE RAIN is as an incisive look at Hollywood as SUNSET BLVD, the difference being that it is the story of a winner verses the story of a loser. It should be noted that although the story is told in a lighthearted manner, the industry's change to sound is rife with tragedy as careers virtually evaporated overnight—both stars, writers and directors. The film touches on this but that is another story for another writing.
Besides the "Broadway Melody" number the best thing in the film is Donald O'Conner. He had been in Hollywood since the late 30s starting as a child actor at age 12 and easing into adult roles by the 50s. In this, his greatest screen performance he is nothing less than magic. His dance numbers with Kelly are remarkable as could dance as well as Kelly and was the best male dance partner Kelly ever had. Their tap dancing sequence—one of the best ever filmed—can be seen over and over and it never loses its sparkle. O'Conner's "Make 'Em Laugh" dance number is sheer exuberance and it is all Donald O'Conner. In it, he does bits of humor and amazing feats of athletics, one coming right after the other without pause. I have watched it over and over simply amazed. It is not to be missed. And his character Cosmo's take on things spoken in asides and expressed with looks and gestures is just wonderful.
Then of course the film has Jean Hagan as Lina Lamont. Why that woman did not win an Oscar is a mystery to me. Although Hagan was nominated, Gloria Grahame won for the BAD AND THE BEAUTIFUL. But a performance like Hagan's is so iconic, so transcendental that awards really don't matter. It never ages and only improves over time. In scene after scene she steals the film. The looks, the smiles, that incredible voice and even the way she walks; Hagan has the character down pat and what she comes up with is simply unforgettable. Of note, the singing voice that Debbie Reynolds is supposed to be dubbing is really Hagans. I can go on and on, but again, just watch the film. Her performances says it all.
KELLY AND CYD CHARISSE
One of the elements that has never sat well with me was Kelly's infatuation with Debbie Reynolds. On the page I can see it. Like his best friend Cosmo she has a sharp tongue and isn't all that impressed by his celebrity. But Reynolds was far too young and—not in a negative way—limited at this point in her career. With a Cyd Charisse I can see it—just look at her in the Broadway Melody number. That is a woman any man would fall in love with. Nevertheless, Reynolds is a delight and this film was really a career starter for her. As she has said in interviews, Gene Kelly—the consummate perfectionist—worked her so hard that she came home with her feet bleeding from the dance rehearsals. She has also stated and I found this interesting, that what she learned from Kelly during the making of SINGING IN THE RAIN film was responsible for career lasting as long as it had. I can only conclude that she is talking about hard work and perfectionism as a work ethic for which Kelly was famous.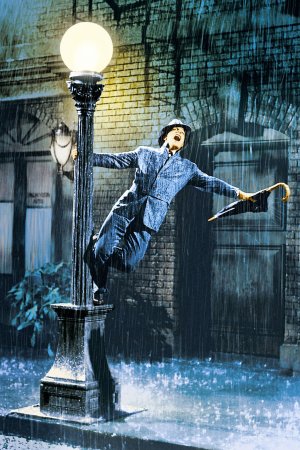 Finally the singing in the Rain sequence. First of all, you should find this interesting. It was filmed during the middle of the day. MGM had outdoor sets over which they could tarp so the set became dark as night. Second, unlike how the song had been sung in films previously—and in this films pre-credit sequence—it is sung much more slowly and in doing so becomes one of the great love songs with the interpretation's emphasis on the song's lyrics. Hearing it this way, it's as if one has never heard the song before. Comparing this version to the earlier ones is a musical education. Then of course there is Gene Kelly's dancing. What he does here is remarkable, yet he makes it seem so effortless. For example, in the bit in which he dances in the puddle it was all carefully preplanned. A hole was dug in the street so it could filled with water but he made it all look so casual and almost like happenstance that the work that went into it is not even hinted at.
In my opinion Gene Kelly—who was a genius—in this one scene, which has rightfully become one of the most famous dance/singing sequences ever filmed, provides us with a snapshot demonstration of this man's immense talent. Frankly, without Kelly there would not be THE SINGING IN THE RAIN that we have all come to love. There was only one Gene Kelly and only one SINGING IN THE RAIN.