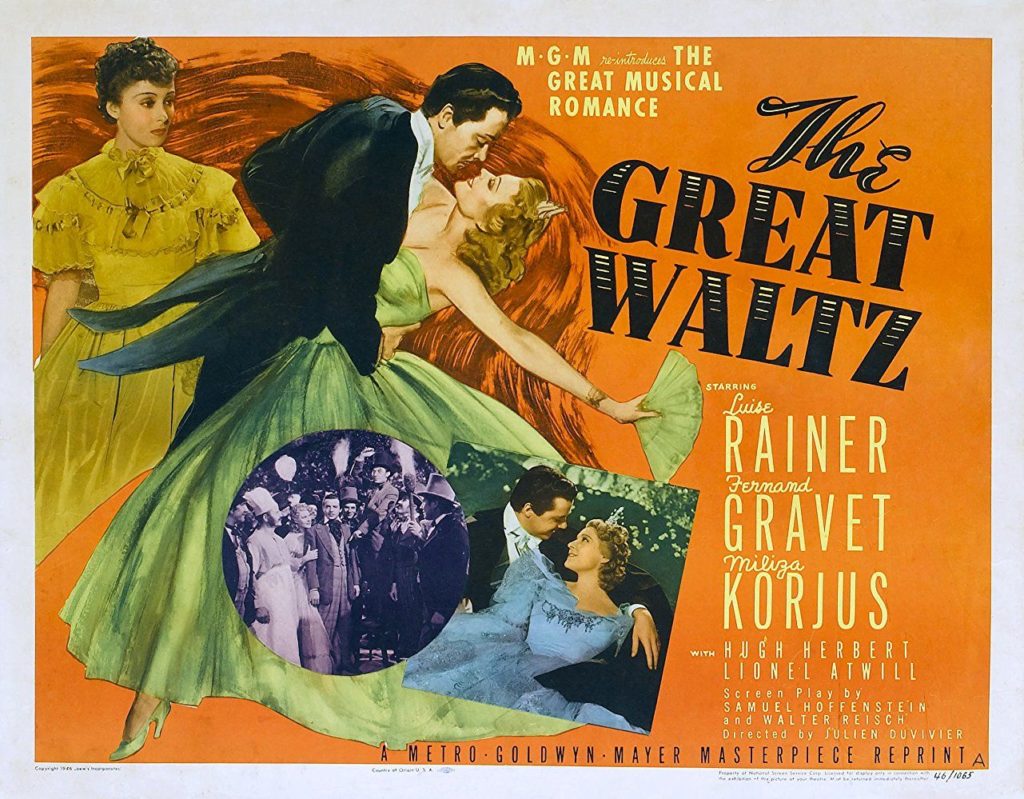 Last New Years I was watching the Vienna State Orchestra playing Strauss Waltzes on PBS including Tale Of The Vienna Woods.   the performance was terrible and it was terrible because I am a big fan of the 1938 MGM film THE GREAT WALTZ ever since I first saw it on the WCBS Late Show in the 1950s.
Before I talk about the film's Tale Of The Vienna Woods sequence let's get a few things out of the way. First, the film itself is not the greatest movie MGM ever made; in fact far from it. It's a failed attempt at an operetta style story in the form of an extremely fictionalized biography of Johann Strauss (the younger).   In fact there is nearly nothing in the film that has anything to do with Strauss except the music and even here Dimitri Tiomkin and Oscar Hammerstein II wrote one of the songs being palmed off as a Strauss effort. That pretty much says it regarding the historical accuracy of the movie.
Second Louise Rainer is absolutely wasted in this film. Rainer was a very specialized actress. Like Garbo, she needed her films tailored to her strengths not her weaknesses. This worked in THE GREAT ZIEGFELD, DRAMATIC SCHOOL and even THE GOOD EARTH where her delicate, even fragile screen persona were key to making her characters shine.   She was cast in THE GREAT WALTZ because, top billed, she was the only real star in a film which is, in truth, a showcase for Miliza Korjus, a brilliant coloratura soprano for whom THE GREAT WALTZ was her first film and especially designed to turn her into a movie star. But more on Korjus later.  As such, Reiner's part as the always faithful, supportive but pretty dreary wife is underwritten, shallow and really needed more of a character actress to pump it up. Instead, it pretty much shows all the weaknesses Rainer had as an actress.
OK, that out of the way.
The musical sequences are wonderful and they are as wonderful as they because Dimitri Tiomkin just off his landmark score for LOST HORIZON did the brilliant orchestrations.
(These Straus orchestrations were so wonderful that Tiomkin re-used some of them 26 years later for the finale sequence of the Cinerama presentation of Samuel Bronston's CIRCUS WORLD where I now heard his music in 5 track stereo during the films Roadshow Engagement.)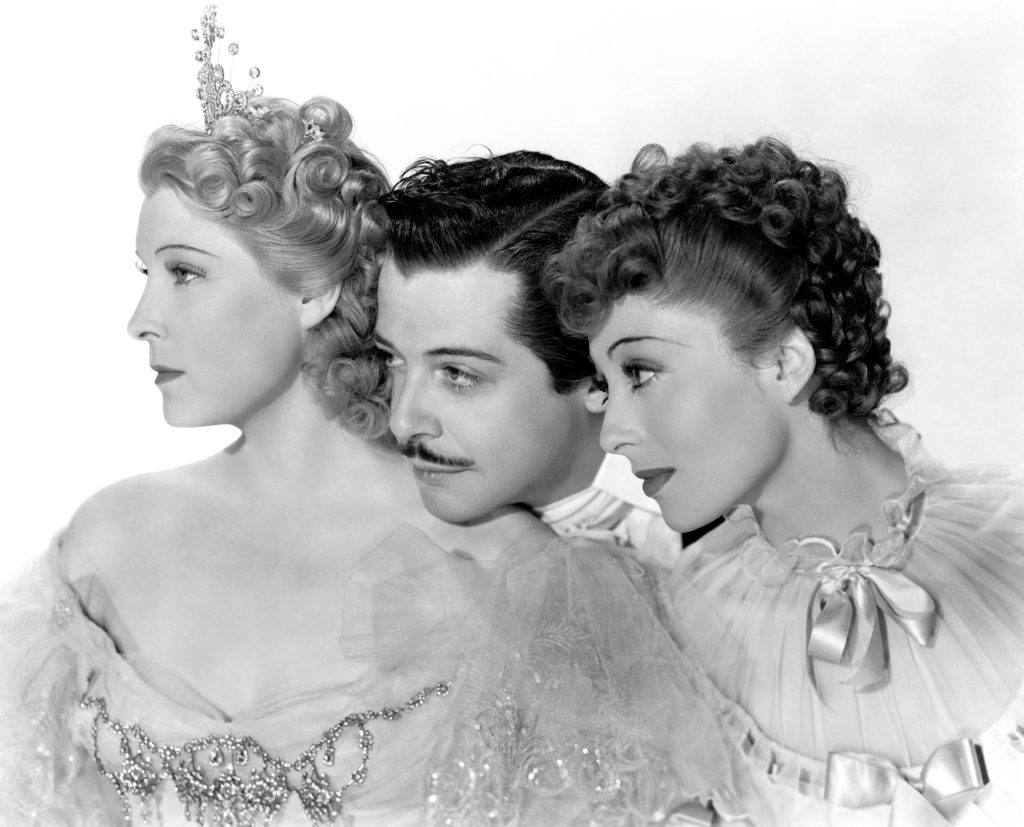 Strauss is played by Fernand Gravey, a star in France who came to Hollywood in 1937. Eventually signed by MGM he returned to France during the war to become a member of the secret French Army. After the war, now considered a national war Hero Gravey remained in his home country making films. Quite charming in this film, he pretty much suited the bill.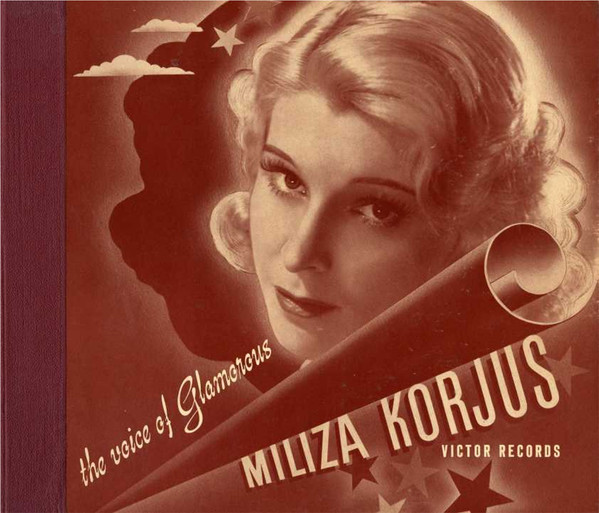 Miliza Korjus was an entirely different matter. Born In Poland but raised in Soviet Russia where she began her singing. Korjus managed to escape in the late 20s and soon began a European singing career which by the mid-30s made her one of the most celebrated coloratura sopranos on the continent. Irving Thalberg heard some of her recordings and immediately signed her to a long term MGM contract sight unseen.   Although Thalberg died in 1936 Korjus didn't make her film debut until 1938 and THE GREAT WALTZ. The wait was well worth it as the woman dominates the screen with her incredible singing, her looks and total screen charm. You can't take your eyes off her. The woman is nothing less than magic and makes it understandable why she was such a sensation in Europe.
Not exactly on the light side (more a Mae West than a Janette MacDonald in terms of body size) nevertheless Adrian's gowns hid the deficits and showed her off her assists to full advantage. She is so unexpectedly stunning that bringing her magic to the screen Korjus would receive an academy award nomination as best supporting actress for this, her first film.   I have never heard coloratura like this. A true master she gives an unexpected sweetness to coloratura and, so, what is usually a technical demonstration, in her hands—or voice—makes for utter joy that you want to hear over and over again. It was this skill that made her as celebrated in Europe as she was.
The film was as lavish as any MGM musical of the period and in some cases even more lavish. Using sets left standing after Marie Antoinette completed filming it was still one of the most expensive films of the period and although it grossed as much as it cost it still lost 700,000 dollars—a massive sum in those days. The, film isn't shown very much and, although pretty much forgotten today, for those who do see it, they revel in that wonderful music and of course Korjus. Frankly, I am thankful the film—for all its short comings—was made simply because I can see and hear her sing. If not for this film that pleasure might have been lost forever.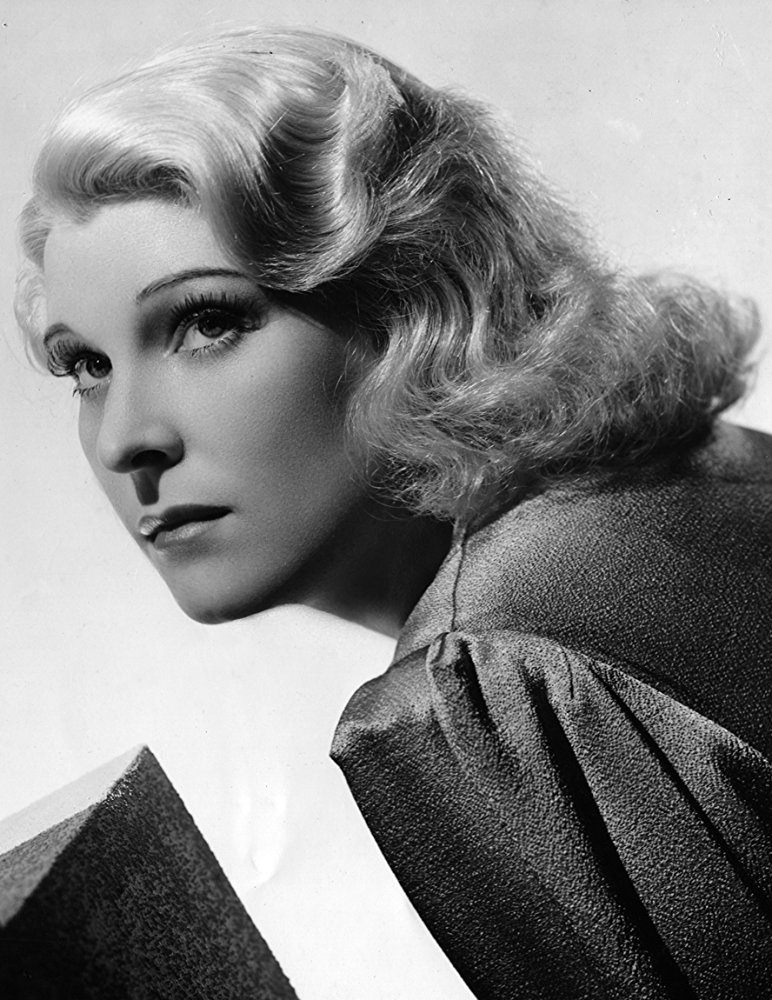 Which brings me to the brilliant 12 minute Tale OF The Vienna Woods Sequence. I have watched it over and over and will try my best to properly explain what it achieves as it functions on multiple layers.  The opening of the sequence which is often criticized has Gravey and Korjus by circumstance in a hired open carriage driven by an elderly driver. It is morning and the two—although attracted to each other—show each other nothing but disdain. That is until Gravey hears a bird singing and gets the beginning of an idea for a melody. Other sounds come into play and Gravery begins to add them as he develops it into the principle theme for the famous waltz Tale of The Vienna Woods. In the process Korjus gets caught up in the experience and adding her brilliant coloratura voice it soon seems that the entire forest joins in the exultation of artistic creation.   Completed the two—who were standing as the music built and then finally ended—fall back into their seats exhausted as if having just experienced some form of emotional ecstasy.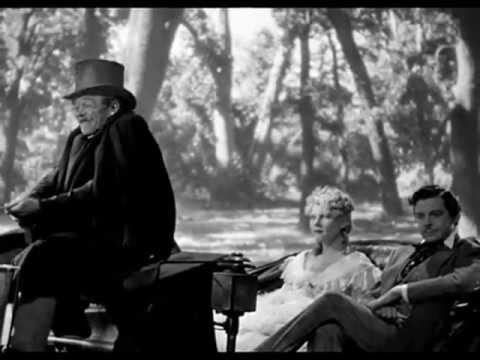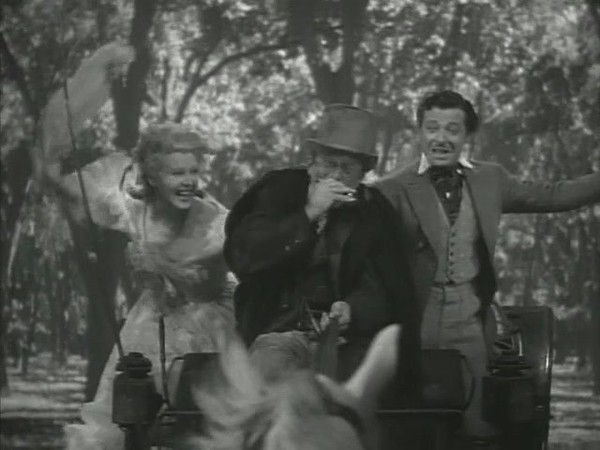 The major complaints of many critics to this opening is that this is not how a musical piece is created—being given the music in bits and pieces by surroundings sounds. But that's not the point. What is, is that we are seeing and, more importantly, hearing how a composer takes bits and pieces and builds them into a melody. It may be happening in his head and not in the Vienna woods, but the process is the same. Bits and pieces being skillfully added together to formulate a coherent and fully realized piece of music.  It is my belief that, created by composers and musicians, this opening sequence was too sophisticated for its critics who found the on screen inspiration for the music inauthentic. In short, they just didn't get.
In terms of the film's story this opening sequence works on another level. It is the music that brings the composer and the opera singer together communicating in a form that speaks to both of them. Thus, what we are seeing and understanding are the reasons for an impending love affair.   As musical artists, it is through music that they can communicate completely on a level that non musicians could never understand. This theme is carried through the rest of the sequence.
From the Vienna woods in the early morning the film dissolves to the late evening and a beer garden with an adjacent inn where Strauss—in a bandstand—is now working with a small female orchestra. During the intervening time—which was the bulk of the day—he had orchestrated the piece until it a completed and fully realized orchestral piece.  As this process would be bore an audience, while two comic characters exchange dialogue we see Strauss in the background as he pauses the music to instruct one of the performers. All this is done so that,  if you aren't looking, you won't notice. But it is there.  From this point until the dizzying climax of the sequence Tiomkin's orchestrations, re-juxtapositions and even music of his own to slightly augment Strauss, this composer/arranger subtly services both the music and the film.
So, while Strauss is working with the orchestra, Korjus is in one of the inn's rooms finishing cleaning her gown and putting on her hat. The owner's wife, mistaking her for Strauss's wife, comments about how wonderful it must be to be married to an artist and especially Johann Strauss and Korjus agrees.
At this point what we are hearing—and this is all due to Tiomkin—is the Strauss music orchestrated and played as a love theme. While looking out the window blinds at Strauss playing his violin while also conducting his orchestra, Korjus's face radiates with love. It is music connecting one artist to another.
(It should also be noted that the black&white photography here, as with the rest of the sequence, is superb and earned the film's photographer an academy award nomination)
Koljus appears at the inn's entrance  and sits to the side while Gravey plays the violin as the orchestration allows for a virtuoso violinist to display his skill (Gravey couldn't play a note. It was dubbed in by a real musician)  Suddenly Korjus begins singing (with Lyrics by Oscar Hammerstein) and the orchestration returns the music to a love theme and then transforms again as her singing and the musical accompanying becomes an operetta aria as Korjus stands and moves around the band stand once again displaying her coloratura skills mixed in with the Hammerstein lyrics.
Reaching Strauss, their two faces close, he plays the violin and she sings to him, the music makes them seem as one. The photography is particularly beautifully here and watching it made me feel I was seeing two people making love with music. Then suddenly Gravey hands off his Violin and the two begin to waltz.   Slowly at first and then as the orchestration changes to a full throated rendition of Waltz their dancing increases in speed as they twirl around the bandstand over and over as the dancing becomes more and frenetic and the two become enraptured by the sheer passion of it.  Soon Koljus is no longer singing lyrics but, instead, pure coloratura which becomes another instrument adding to the effect of the scene.  This goes on for quite a bit as they dance around and around in sheer exstasy until the music ends and exhausted the two fall together on the grass with each looking at the other knowing how much in love they are.
It is a thrilling 12 minutes of brilliantly conceived and brilliantly executed music that serves the eye, the ear and most of all the purpose of this sequence—a love scene. Watching the last moments of the sequence I felt, metaphorically of course, that I was watching two people in the act of love. Thus, the total sequence is nothing less than inspiring.
Korjus was scheduled to make another film at MGM but was in a car accident which crushed her leg and she took a long time regain its full use. She never did make that film but returned to the concert stage achieving the same reputation in the Americas that she had in Europe. During the war, for some reason she settled in Mexico where she made one more film and then gave herself exclusively to the concert stage until her retirement. Having married an MD she settled in Los Angeles where she was a member of the city's social scene before her death in 1980.  Again, I can only thank heaven that she made this film so that I could appreciate this great musical artist in her prime.
I hope you have a chance to see the film and most especially The Tale OF The Vienna Woods sequence  You will experience the kind of joy I do whenever I watch this sequence. As far as I am concerned it could go on and forever.   The sequence is a neglected masterpiece.
Comment
Reply