I first saw Wayne's THE ALAMO sitting in my fifth row center Aisle seat at the Wakefield. (As you should know by now it was my favorite seat at that theater.) And, at that time, I thought it was one of the greatest films I had ever seen. (My brothers had taken me when I was younger to every John Wayne film released and they included even THE SEA CHASE, THE CONQUEROR and LEGEND OF THE LOST. As I said, everything!) So, a Wayne film was a big thing to me. The Wakefield's lobby had massive (I think) 5-sheet poster announcing that The Alamo was 12 years in the making and, so, I believed at the time that they had actually spent twelve years shooting the movie.
(Truth is Wayne had been wanting to make it for over a decade and an aborted attempt at Republic was terminated years earlier.  As they owned the script that film company made a forgettable film out of that script called the Last Command.  That version had absolutely no relation to this film except being included in that 12 years business. Oh Well, Hollywood bally-hoo.)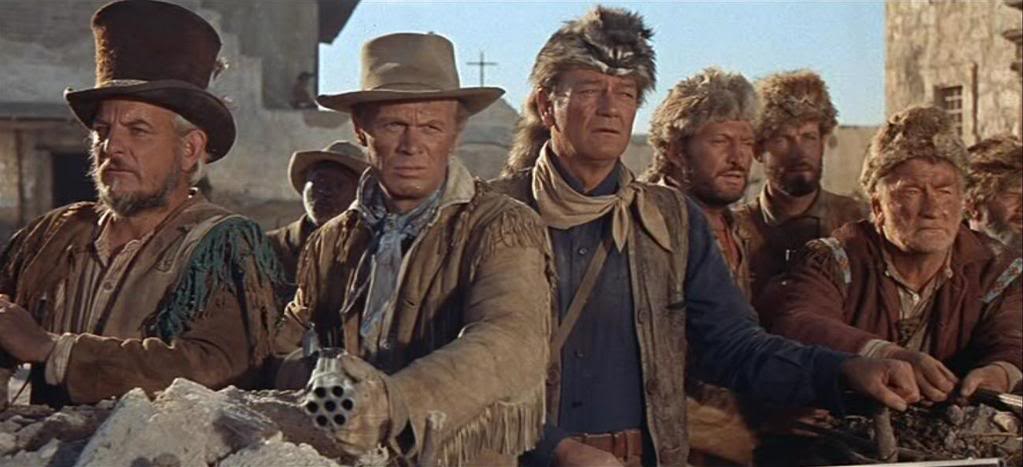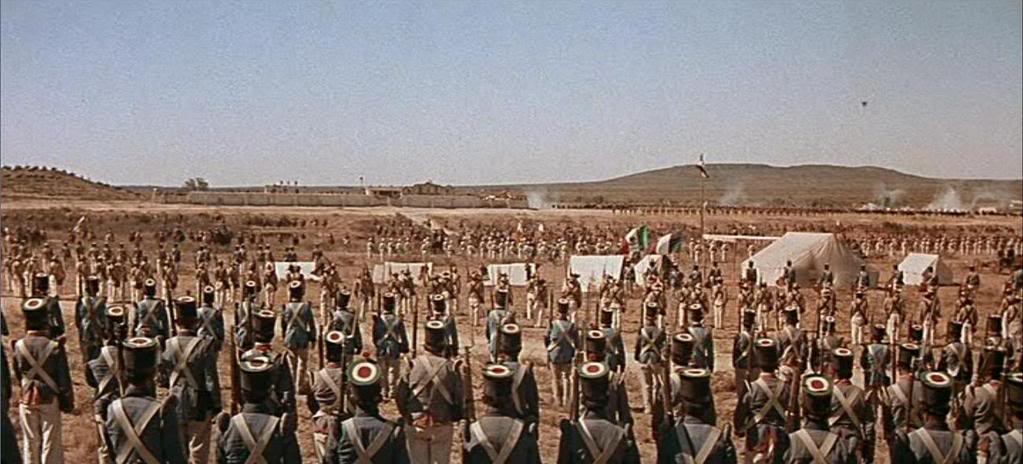 The color was fantastic, the cast great the battle scenes absolutely stunning. What more could I ask for. What I didn't know at the time was that Wayne had, produced, directed and financed this 12,000,000 dollar epic spectacular—with his own money.
It should be noted that I had watched a 167 minute general release blow down to regular Panavision. This was in the fall of 1961. A year earlier the film had opened at the Rivoli on Broadway as a Roadshow in a 203 minute 70 MM Todd-AO version with full six track stereophonic sound. It had an overture, intermission, entr'acte music and even exit music.  The bally-hoo involved with this film rivaled any in Hollywood history. Seven states even had an Alamo Day and Wayne and all involved gave it everything they could as it opened in Roadshow engagement after Roadshow engagement around the country and all over the world.
Although the reviews were mixed, initially, the film opened to big business but that quickly fell away and it was no longer playing roadshow in the city by the spring. That summer it was in second run playing the 167 minute Panavision version and then that fall in third run when I saw it. In general release, like all Wayne films it did very well at the box office but that 12,000,000 cost recoupment was near impossible and the film went down as a financial disappointment.
As I mentioned the film had cost Wayne—it was his money—over 12,000,000 but didn't break even until a 1967 re-release ( at I think at 144 minutes) after Wayne had already sold his rights to UA and taken such a loss that he was nearly bankrupt. This was the reason why, under his Batjak banner, Wayne made a series of films produced by his son that, although they were lacking, turned out to be money makers and made Wayne once again a rich man.
I wouldn't see the film again until it played as a two-part two-night broadcast on an NBC's Night at the movie. The print was pan-and-scan but it was the complete Roadshow version minus overture etc. By this time I had become a bit more sophisticated movie goer and thought that—besides the truly spectacular action sequences and one of Dimitri Tiomkin's best score—the movie was an overblown talk fest in which John Wayne lectured the audience every ten minutes on what it meant to be an American—John Wayne style. His "Republic" lecture was the worst but Wayne felt so strongly about it that it was actually on the original soundtrack album. A total embarrassment.
Wayne's "Americanism" had an interesting gestation. After making the Big Trail in 1930 for Raoul Walsh—a massive Western shot in early 70MM that died at the box office—Wayne did some bit parts in a few A-movies (If you watch closely you'll see him in Baby Face) but was relegated to B-Westerns for the rest of the 1930s. It was Siberia but it was in these films that Wayne learned to be JOHN WAYNE on screen. In THE BIG TRAIL it was all there but it wasn't refined and I don't think audiences were prepared. That wouldn't happen until 1939 and STAGECOACH. This was JOHN WAYNE and after ten years "in the wilderness" his Hollywood career and superstardom had finally kicked in. But, then the war began and, unlike most of the big stars, Wayne didn't sign up. He was willing to go on bond and USO tours but dismissed the thought of his career losing its momentum by him being in the Service like stars Clark Cable, Jimmy Stewart, Robert Taylor, Tyrone Power, Robert Montgomery and even Sabu. Lew Ayres, who was a conscientious objector, became a medic and won three battle stars. This was something Wane was simply unwilling to do.  For Wayne, his career took precedence.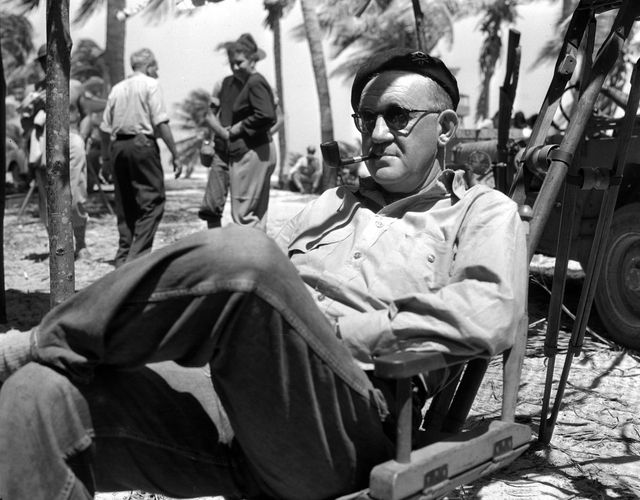 So while the other stars were actually fighting in the real war, Wayne was fighting in war movies. When the war was over—this was especially true of John Ford—around town Wayne was pretty much looked down on because of this lack of patriotism. Director John Ford had had joined up and actually took part in the Pacific campaign to make his great war documentary THE BATTLE OF MIDWAY. So, Ford humiliated Wayne about his lack of involvement in the war every chance he could. During the making of THEY WERE EXPENDABLE in which Wayne stared with real war veteran Robert Montgomery, Ford would tell Wayne with disgust that he didn't even know how to salute like a real soldier. Ford was relentless. Nevertheless, Wayne took it, gave a great performance and is absolutely wonderful in the movie
So, when the red scare hit America, Wayne, trying to prove something to everyone (but mostly himself) became the biggest anti-communist pro-American in Hollywood. As a result, in the 1950s he became the embodiment of American Patriotism and THE ALAMO was his pen-ultimate representation of this.  Then, during the Vietnam War he was notorious as the biggest Hawk in Hollywood and even made THE GREEN BERETS to prove it. And prove it he did as it became his highest grossing film and most Americans embraced it while the anti-war people thought it a joke. In respect to John Wayne, one of my all-time favorite actors I will not express my opinion on that film. I pretty much watched it with my mouth open in complete disbelief.
Politics aside, Wayne was—and still is—one of the greatest stars to ever come out of Hollywood and at his best there no one was better. Even French film maker Jean-Luc Goddard who absolutely despised Wayne's politics would say that those feelings faded away whenever he saw Wayne in THE SEARCHERS, take Natalie Wood in his arms at the end of the movie. Up on screen Wayne presented a screen persona that transcended politics and embodied something that spoke to deepest parts of an audience's psyche.
Today, regarding THE ALAMO, I can't really sit through a full showing of the film only watch the sections that I like, which include the action sequences and Wayne when he is not giving a lecture but just being the truly great movie star that he was and will always be. Truth be told, I love him in the movie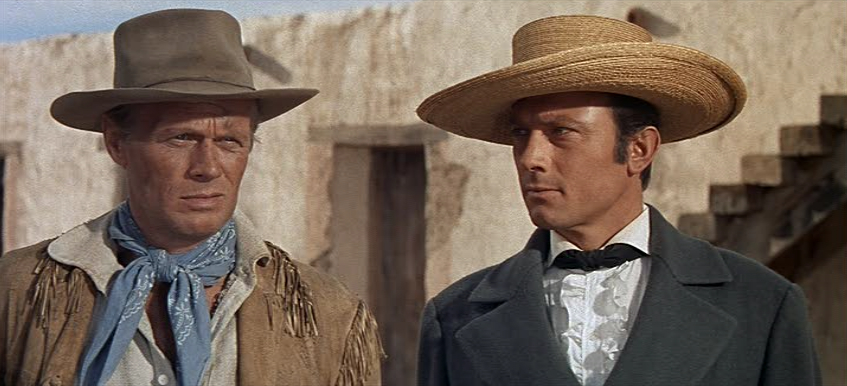 The plot is of course ridiculous. After a good start, the first half of the movie has little or no action and is devoted to a ridiculous love story and a series of Wayne lectures about the meaning of freedom. Laurence Harvey—who is pretty good in the movie overplaying his part, actually holds his own with Wayne—plays Col. Travis. He and Richard Widmark, who as usual gives a first rate performance as Jim Bowie, argue most of the time and that's pretty much the most dramatic stuff in the first part. There's even a birthday party for one of the little girls—who happened to be one of John Wane's daughters. I mean most of it is laughable.
But the second part of the movie is another story. The film comes to life the minute Santa Anna appears and the movie finally kicks into gear.  There's a cattle rustling scene and the two battle scenes are great. I especially love the beginning of the final assault when the three stars stand together and watch the Mexican Army assemble for that final assault. It is dynamite as everyone there knows that they are going to die but still do their duty. Director Wayne said more about Heroism during these few minutes of film then during all his gab about patriotism. He wanted to make a film about the cost of freedom and that he did do. If he only didn't give those stupid lectures.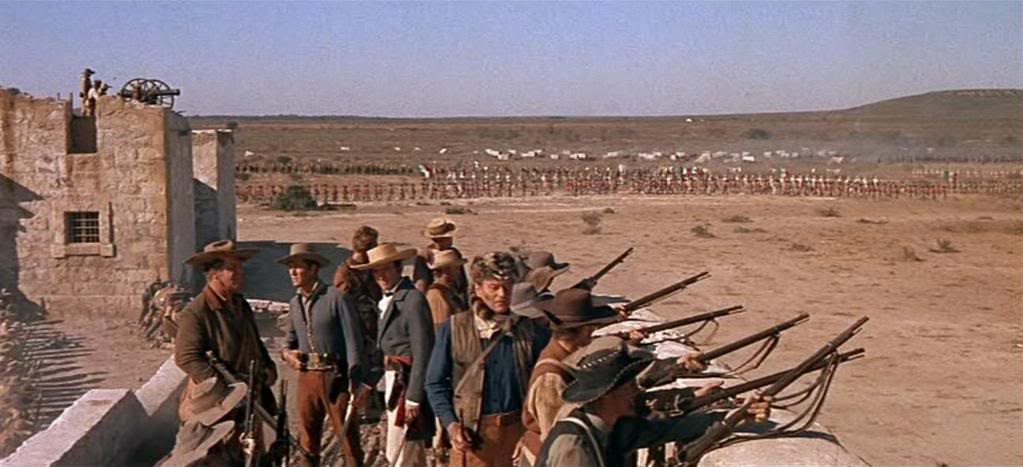 Unfortunately, although the 203 version was released on VHS but only the 167 minute general release version is on DVD in the U.S. Although the 202 is available in Europe on Pal. I was hoping that the full 203 would make it to Blu-Ray but it is lost and a true theatrical restoration of the full version is not possible as the only 70 MM Roadshow print in existence  has degraded far too much for duplication.   Thank God I caught it on NBC. I am hoping that he can be restored in 4K as the Cinerama films were.  Those negatives didn't even have their sprocket holes.
The set was left standing—this Alamo took two years to make and actually used original adobe—and is still standing. It has been kept up, used in several films and is now a major tourist attraction. If only the film had been as well take care of as the set.
The music on the other hand has been available in LP, and CD since the film was released and. still available, is one of Tiomkin's best scores.   In fact it was one of the first soundtrack albums I ever purchased—LAWRENCE OF ARABIA was the first—and I still treasure it although I also have it in CD. The quality of the sound is incredible. And the full score version on CD now includes dialogue—yes, Wayne speeches and all which I make sure to skip. It is just great to hear it on my seven track system full stereo.