AFI 7-THE PHILADELPHIA STORY
Let me just say this from the beginning. THE PHILADELPHIA STORY is not one of my favorite films. Don't get me wrong, I think it's a great confection—a film in which style far outweighs content.  But first my history with the film. Truth is I don't remember when I first saw it. It was probably on New York's WCBS late show—mostly likely Saturday Night when the better films were first shown—as WCBS was licensing pre-1940 MGM film packages. But truth is that this is merely an educated guess.
When I watched it, somehow the story seemed familiar. It should have been, my brothers had dragged me to the musical remake HIGH SOCIETY with Sinatra, Crosby and Grave Kelly a few years earlier. I didn't realize this until I saw HIGH SOCIETY on TV that 1) I realized I had seen it and 2) I also realized that it was a remake of THE PHILDELPHIA STORY. I will also add, that since I was five or so at the time I saw High Society with my brothers I just remembered fragments of the movie.  So in that context, I should be forgiven.
I will also add that whenever PHILADELPHIA was shown on TV I probably looked at it because those were the days of "least objectionable programing." In other words you didn't choose the program you wanted to see but, instead, the program you objected to the least and as it is a great very stylish entertainment, I would watch. And, so, as a result today I can tell the story of the film scene by seen. Really, I have seen it that many times. Finally, in the 1970s I saw it in a movie theater when MGM—the company was now desperate for money—were re-releasing as an MGM festival their older classic titles. TV showings be damned, people liked me wanted to finally see the films on a big screen.
Another digression. In 1940 the film had opened at Radio City Music Hall in New York. It ran six weeks there which was pretty much a record. Up to this time the Music Hall had pretty much had a preference for RKO films in the 30s but in the 1940s and 1950s MGM took over and played their best films there. Subsequently, Radio City Music Hall made a film the gold standard for a film if it played there as the Music Hall only played the best. With a 5,000 seating capacity a film could recoup a quarter of its cost at that one theater so of course every company wanted their films to play there and the theater could pick and choose.
On the bad side I thought the film too long, could not understand why Jimmy Stewart won an Oscar for his performance (It would be long time before I realized that it was a consolation prize for losing the Oscar the year before for his MR. SMITH GOES TO WASHINGTON performance to Robert Donat) the story was pretty implausible and John Boles (remember him for his brilliant performance as Colman's brother in LOST HORIZON) was more wooden than usual and it was inexplicable why Hepburn would actually want to marry such a jerk. In short it was typical Philip Barry fluff for which he was both a famous and enormously popular Broadway playwright in the 30s and 40s mainly for his social satires. Another one was HOLIDAY, the film version also staring Hepburn and Grant. Today Barry is pretty much forgotten and his plays rarely if ever revived—that is except THE PHILADELPHIA STORY which I think is more due to the film more than anything else. The business about having to take the good and bad in a person to make a marriage work as well as Tracy Lord having to be worshipped comes across to me today as a big so what.
On the good side, the first scene in the film is worth the price of admission. If you have ever been married and divorced it will hit the bullseye. For that scene alone the film is worth seeing and it rings true the first time you see it and the 100th. Grant is serviceable but this is definitely not his best work. (He was much better in his RKO films with Hepburn especially BRINGING UP BABY and SYLVIA SCARLETT.) But, the other performers are in top form including Ruth Hussey, Roland Young and John Holiday. Although he surely didn't deserve an Oscar, Stewart is damn good giving one of his better pre-war performances. His sincerity in what is an interesting and complex character; opening up his soft side that he has carefully hidden under an attitude of cynicism shines. I especially liked Virginia Weidler and her "Lydia Oh Lydia" number. This production like all MGM major films of the period is—shot for the most part entirely on studio sets—flawless and George Cukor's direction of his performers is top form as he makes scene after scene—no matter how implausible—work. Very great director who knew how to draw the best out of his actors. As a presentation at Hollywood's creative and technical excellence it would be hard to find better. Oh yes, Franz Waxman's music is, like everything else he wrote is excellent. He also did the iconic score for REBECCA that year.
But, what really makes the film so special is Katherine Hepburn. Compared to her work at RKO—which with the exception of a handful of films her acting was two-dimensional and pretty much fell into caricature, Philadelphia raises her to a new level of star.  Her later RKO films is one of the reasons why she was labeled (along with Dietrich, Garbo and Crawford) Box-office poison.
This film (along Dietrich in DESTRY RIDES AGAIN also with Stewart) was probably one of the greatest comeback performances in film history. There is of course the famous story of how Barry had written the play for her, Hepburn playing the part on Broadway, Howard Hughes giving her the money to purchase the film rights and because MGM wanted the property had to take her and pretty much let her determine casting. She had wanted Tracy instead of Grant but lost out on that but, instead, got Tracy for WOMAN OF THE YEAR and that is, as the saying goes, history as it is a much better film.
Hepburn is great at a level of acting one would have thought impossible from her RKO movies. Don't get me wrong, some of those RKO performances were great but it was more how really fresh and different they were that first made them popular and later why audiences grew tired of them. It seems as Hepburn matured so did her acting as it grew more complex and full of genuine depth. No caricature here. With PHILADELPHIA, in scene after scene the truth in her work is on the screen and this would be the first in a series of great roles making her a top star for the next 40 years. For this reason primarily among others, the film shouldn't be missed. In this film a star is really reborn.
I think it was the post-PHILADELPHIA films that made Hepburn her the icon she became. The RKOs were good but there was just too much affectation. I think she would have gone the way of a stars like Connie Bennet or Ann Harding—bright stars more representative of their times then for all time. I mean think of PAT AND MIKE or Adam's Rib. Or AFRICAN QUEEN. She was a star with a capital S.   For all my complaints, this has to tell you something. I have the film on DVD and have will purchase the Blu-Ray when it is released in the States. And that as they say, that says it all doesn't it.
Take a look at Mr. Smith. If it wasn't for Robert Donat giving the performance of his life Stewart would have won. So, the academy voters made up for it. If anyone deserved an Oscar for the PHILADELPHIA STORY it was Hepburn. Rodgers in KITTY FOYLE was quite good, but Hepburn's performance here is totally on target.  Rodgers most likely won because her work in FOYLE was so radically different from what she had done in the previous ten years.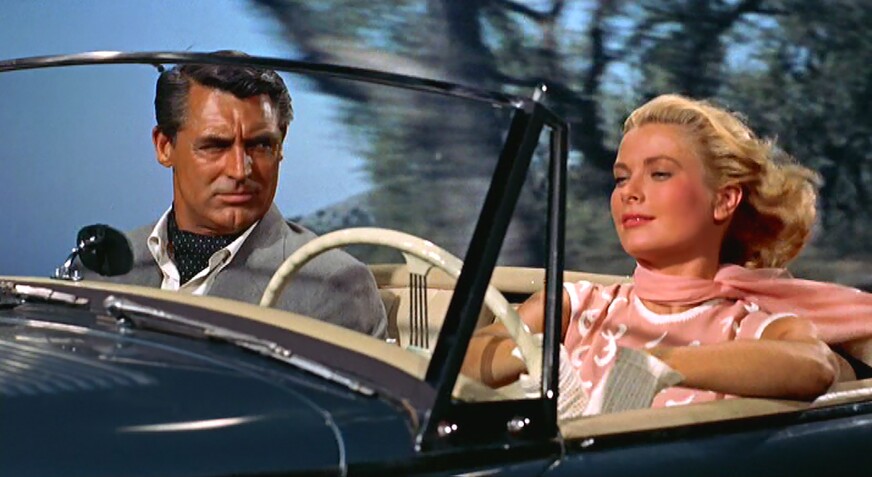 As for the musical remake, HIGH SCIETY was an immense hit, as big as the original film and it also played at Radio City Music Hall. In those days Sinatra and Crosby were big box office especially in a musicals. Something interesting. The year before, Grant played opposite Kelly in TO CATCH A THIEF. It was an example how male actors have a longer shelf life playing romantic leads than actresses. Kelly also played opposite Stewart in REAR WINDOW. If she had played opposite Hepburn. Kelly would have hit a home run. Food for thought.